by joe
|
Last Updated:
October 11, 2022
Some of Ken Griffey Jr.'s most valuable baseball cards were being printed when the Junk Wax era was kicking off in the midst of his 1989 rookie year.  His Hall of fame career solidified his popularity in the sports card hobby and created a variety of valuable cards.
Here is a list of the most valuable Ken Griffey Jr rookie cards and rare inserts.
Most Valuable Ken Griffey Jr. Rookie Cards
1989 Bowman Ken Griffey Jr. Tiffany #220 Rookie Card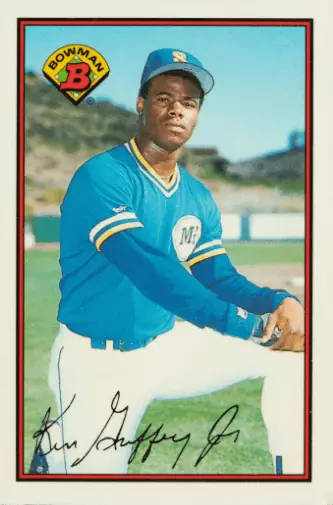 The 1989 Bowman Tiffany Ken Griffey Jr. #220 his most valuable rookie card.
Recent PSA 10 copies have sold in the $12,000-$15,000 range.
There are only 156 PSA 10s, which have sold for as much as $20,000 in a PWCC Auction during the Spring of 2021.
Tiffany versions for both Topps and Bowman refer to a glossy finish on the cards and were only attainable in complete sets as an upgraded, higher end version of the exact same design found on the plain paper versions from retail store packs.
1989 Topps Traded Ken Griffey Jr. Tiffany #41T Rookie Card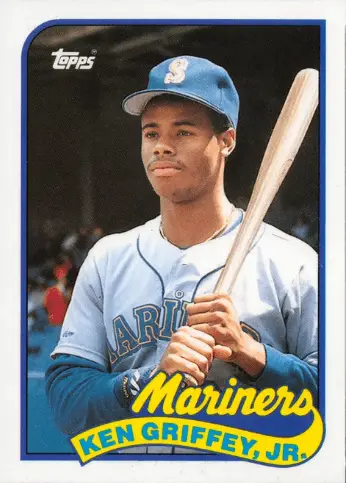 The 1989 Topps Traded Tiffany Ken Griffey Jr. rookie card falls between the Upper Deck and Bowman Tiffany rookies in terms of rarity and value.
With a PSA 10 population of 332, it typically sells between the $3,000 and $4,000 range in Gem Mint condition.
The base version of the 1989 Topps Traded (non-Tiffany) rookie card has a PSA 10 pop of over 13,000, and sells for around $125. 
It's apparent that the glossy, more rare Tiffany versions of both Ken Griffey Jr.'s Bowman and Topps Traded rookies are much more rare and highly sought after.
Either could be considered a grail card for baseball card collectors.
1989 Upper Deck #1 Ken Griffey Jr. Rookie Card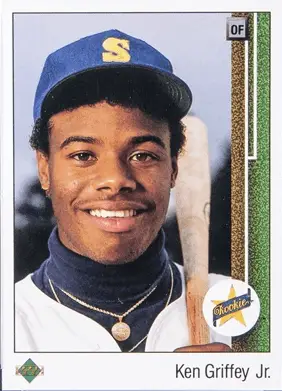 The 1989 Upper Deck Ken Griffey Jr. rookie Star sports card is a must-have for serious baseball card collectors. It can frequently be found on eBay and has been graded by PSA nearly 90,000 times. 
Approximately 4,000 copies have received a PSA 10 Gem Mint grade and its current value is estimated at $1,800-$2,000.
A BGS 10 Pristine copy of the 1989 Upper Deck rookie once sold for $18,000 and a PSA 10 with a 10 auto sold for $13,200.
Most Valuable Ken Griffey Jr Inserts and Autograph Cards
1991 Topps "Desert Shield" #790 Ken Griffey Jr.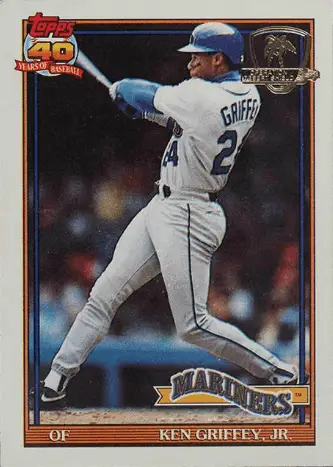 The gold foil label of "Operation Desert Shield" was a signifier of a specially made set produced by Topps for soldiers serving in the Middle East during the Gulf War.
Ken Griffey Jr. has two such cards from the set, and  #790 has sold for as much as $18,600, in October of 2021.
His other card, the All Star #392, has sold for as much as $2,500.
The PSA 10 population of these cards is 40 for the All Star and only 27 for the base version.
The highest selling card from this rare and unique set is the Chipper Jones rookie #333. It sold for $21,588 during a PWCC auction in the Spring of 2021.
1994 Upper Deck Ken Griffey, Jr./Mickey Mantle Dual Signed Card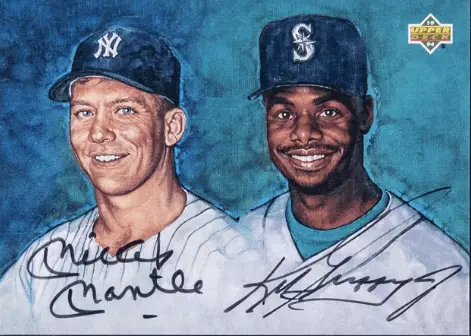 Mickey Mantle and Ken Griffey Jr. signed 1000 cards which were inserted into random retail packs of 1994 Upper Deck. 
Not only is there a dual auto version, but individually each Griffey Jr. and Mantle signed some copies solo as well.
According to the PSA population report, the dual version has been graded just over 200 times.
Only one copy has received a PSA 9 Mint grade, with all others getting an 8 or worse, due to the chipping and likely the handling that was done as the card was getting signed and placed into packs.
The lone PSA MINT 9 copy sold for $54,000.00 at a Goldin Auction.
1998 Circa Thunder Super Rave #100 Ken Griffey Jr.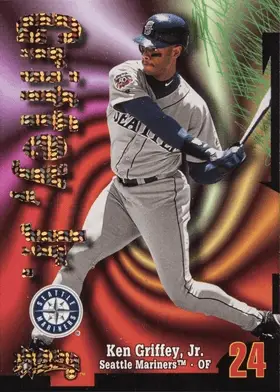 The 1998 Skybox Circa Thunder set includes two numbered parallels. The Rave parallels were numbered to 150 and the Super Rave had a print run of 25.
Ken Griffey Jr. Super Rave has been graded by PSA just 4 times, with only one PSA 10 Gem Mint.
That lone copy sold at auction for $20,910.00 in January of 2021 at a Goldin Elite Auction.
In contrast, a copy of a Rave parallel sold in 2018 for around $500.
1999 Upper Deck "Game Jersey Autographs" Ken Griffey Jr. Signed Jersey Card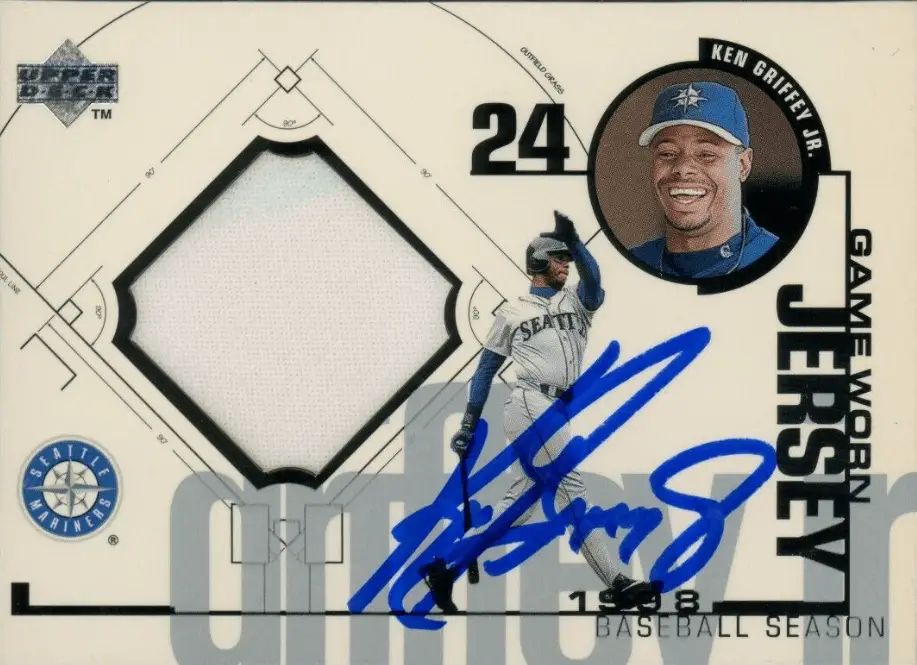 The 1999 Upper Deck Game Jersey Autograph cards have become a monster collector's item in the hobby across both basketball and baseball.
They were inserted into both series 1 and 2 retail packs and were serial numbered to the same number on the player's jersey.
A BGS 9 copy of Ken Griffey Jr's Game Jersey card sold for a whopping $33,600 during a Goldin Summer Premium Auction in 2020.
PSA has only graded 3 copies.
Conclusion
Ken Griffey Jr was a star player in the midst of the sports card boom in the 90s. His legacy is tied directly with the hobby and he will continue to be a staple player among baseball card collectors for years to come.