by joe
|
Last Updated:
March 18, 2022
Scottie Pippen's 17-year Hall of Fame NBA career included 6 NBA titles and he will go down in the record books as a player who had a complete game. Many collectors pursue valuable Scottie Pippen cards, due in part to his storied career alongside Michael Jordan.
He was drafted #5 overall by the Seattle Supersonics but was traded to the Bulls. Other notables in the draft included David Robinson and Reggie Miller.
Pippen's career extended into the 90s basketball card glory days, as you will see many of his most valuable cards are from the mid 90s, when rare parallels and inserts permeated the sports card hobby.
Most Valuable Scottie Pippen Cards
1988 Fleer #20 Scottie Pippen Rookie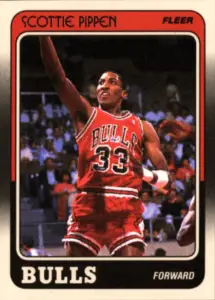 On 3/13/2022 a PSA 10 sold for $2,640.00. Scottie Pippen's rookie year came during a time when no real inserts or parallels existed in the hobby. While he does have some alternative, less popular off-brand rookie cards (such as the 1987 Bulls Entenmann's #33), this is his flagship.
This card has a PSA 10 population of 241, which is not a lot considering how many cards were printed from this set. The low pop count really attests to the frequent off-center printing and cutting of the cards straight from the manufacturers.
1997 Skybox Precious Metal Gems #83 Scottie Pippen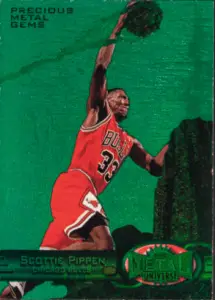 On 2/20/2019 a PSA 6 sold for $22,300.00. The Precious Metal Gems are by far the most sought-after insert set from the 90s. However, considering there are only 90 red parallels versions and 10 emerald versions, it nearly impossible to come by.
One of the most valuable Michael Jordan card is this same version from the same set. In fact, it's one of the highest selling basketball cards of all time, and would probably set the record if the highest graded emerald parallel ever came to auction.
Also of note with these Metal Universe inserts is their condition. Most will never grade mint, and that's because they are very susceptible to chipping straight out of the pack. Don't let a PSA 6 grade fool you. It's not about the condition with these cards. It's about the design and rarity.
There are no PSA 10s in existence, and there's only one 9. It's a red parallel.
1997 Skybox Premium Star Rubies #242 Scottie Pippen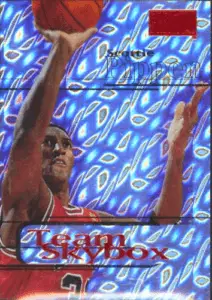 On 6/21/21 a PSA 8 sold for $3,345.00. The Star Rubies parallels differ in a few ways from the base version. For one, the background is a higher gloss finish with a slightly different shine to them as they hit the light. But the name is derived from the ruby red Skybox Premium logo in the top right corner.
There are two Star Rubies per player from the 1997 Skybox premium set – #48 and #242 – the lower number from series 1 and the higher from series 2.
Only 6 between the two have ever been graded by PSA and there are no 10s. While these pop reports seem incredibly low, it makes sense given each are serial numbered to just 50, and some of them could be graded by Beckett. There's always the chance of collectors never grading them, or for some to still be sealed in boxes.
1997 Skybox E-X2001 Jambalaya #14 Scottie Pippen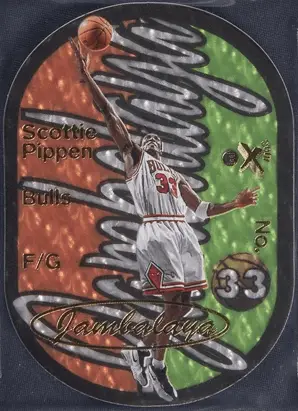 On 8/9/21 a PSA 10 sold for $14,556.00. The 1997 E-X2001 Jambalaya is a unique and rare insert card and will easily be among the most valuable card for Scottie Pippen as long as the hobby is around.
The distinct oval die-cut along with the shiny surface and unique gold foil stamping is borderline busy, but somehow it works.
The designs were so popular, in fact, Fleer utilized the design in some Marvel Retro print runs. Imagine having a Spider Man Jambalaya to go alongside a nice Scottie Pippen from the original design. Once can dream.
This card has a PSA 10 population of just 2, so the sale during the middle of 2021 is a good indicator of peak value.
1997 Fleer Ultra Ultra Stars Gold #15 Scottie Pippen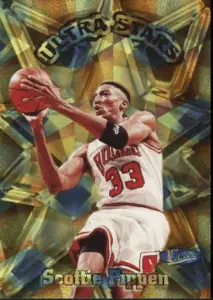 On 10/26/21 a PSA 8 sold for $3,383.00. The 1997 Fleer Ultra Stars is incredibly rare. There is some speculation as to how many were actually printed, but its clear based on the pop reports these were part of a very limited print run.
If that's true of the base insert, the gold parallel is even more rare. In fact, it has a PSA 10 population of just 2.
One interesting aspect of these cards, which is difficult to tell from pictures, is the slight raising of the surface where the star forms take shape.
1997 NBA Hoops High Voltage 500 Volts #17 Scottie Pippen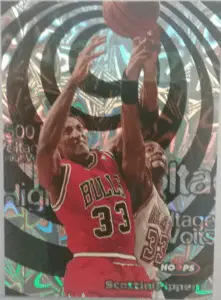 On 1/28/2022 a PSA 8 sold for $1,275.00. The NBA Hoops High Voltage inserts came in a base version, and a parallel 500 volts version which was serial numbered to 500.
Also included in this insert set is Michael Jordan, and a rookie Tim Duncan.
NBA Hoops brought back the High Voltage inserts in recent years, but the original hypnotic design remains one of the most distinct designs in the history of the hobby.
There are no PSA 10s in the pop report, mainly because they grade tough with edges being very easily chipped, although not enough to take away from too much eye appeal.
1998 Skybox Thunder Noyz Boyz #12 Scottie Pippen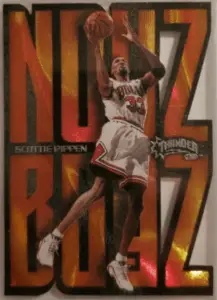 On 3/5/2021 a PSA 10 sold for $2,550.00. The Noyz Boys inserts contained in the 1998 Skybox Thunder were inserted into 1 in just 300 hobby box packs. As you can imagine, they are very sought after by higher end collectors.
There are a total of 15 players included in this insert set, including Michael Jordan, Tim Duncan, Kobe Bryant and Shaquille O'Neal. Because of the amount of top tie hall of famers, its one of those insert sets many collectors dream of completing.
This premium die-cut insert has a PSA 10 population of just 6, but since die-cuts can be notoriously tough to grade, having a near mint copy is still going to be an amazing card to have in your collection.
1996 Flair Showcase Legacy Collection #Row 2 Scottie Pippen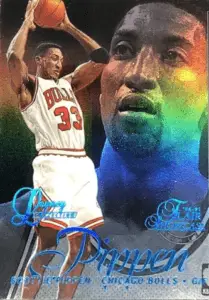 On 12/12/2020 a PSA 9 sold for $585.00. The Flair Showcase Legacy Collection is among the most revered in the hobby. The dual portrait and action shot design was seen throughout the Flair Showcase cards, so the only real differential in these is the blue, glossy text indicating a parallel.
The Legacy Collection included 3 different cards (Row 0, 1, and 2) for each player in the set.
While the sale listed above may not seem like much, its important to note it was for a PSA 9 and not too recent of a sale.
This card has a PSA 10 population of just 1 (of Row 0). I'd estimate a card like that to sell for north of $2,500.
1997 Flair Showcase Legacy Collection #16 Scottie Pippen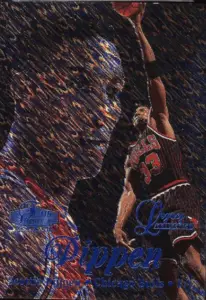 On 11/12/2021 a PSA 8 sold for $1,525.00. Flair Showcase also released Legacy collection cards the following year in 1997. These cards are just as rare as the previous year, with each of the 3 rows in the collection being serial numbered to 150.
It's also interesting to note these are among the first serial numbered NBA basketball cards ever made.
1992 Topps Stadium Club Beam Team #5 Scottie Pippen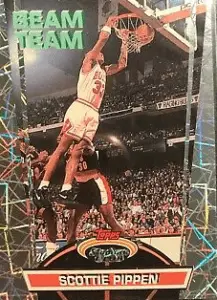 On 2/13/2022 a PSA 10 sold for $568.00. Scottie Pippen joined Michael Jordan, a rookie Shaquille O'Neal, and a cast of other Hall of Fame players in the iconic Topps Stadium Club Beam Team insert set.
The design included some flashy, foil overlay which had a laser-like design. They were inserted into roughly 1 in 18 packs of the series 2 Stadium Club hobby boxes.
Special "Member's Only" boxes also included the entire Beam Team set.
This card has a PSA 10 population of 72. Given the tendency for chipping and off center placement of the foil, the PSA 10 pop report will likely never reach triple digits.
1996 Skybox Z-Force Big Men On The Court Z-Peat #9 Scottie Pippen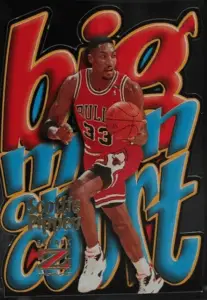 On 2/1/2021 a PSA 8 sold for $202.49. The Big Men on court insert die-cut series came in a base version and a Z-Peat parallel, which only differs with the Z-Peat stamp on the front of the card.
This card has a PSA 10 population of just one, not only because of the rare occurrence of them in 1996 Skybox Z-Force Series 1 packs at a rate of 1 per 240, but also because die-cut inserts with very unique edges such as this one are very difficult to be saved in mint condition.
Other notable players in this insert set include Michael Jordan, Charles Barkley, Shaquille O'Neal and David Robinson.
1996 Flair Showcase Hot Shots #9 Scottie Pippen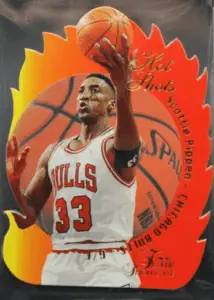 On 2/19/2021 a PSA 9 sold for $333.00. Yet another very distinct die-cut insert in the list. These cards could be found in 1 per 90 packs in the 1996 Flair Showcase basketball card hobby boxes, making them a tough find but not quite as rare as some others in the list.
Given the historic rookie collection in 1996 with Kobe Bryant, Ray Allen, and Allen Iverson along with amazing inserts like this, Flair Showcase would be a dream hobby box to open.
There are 19 other players alongside Pippen in this insert set, including Michael Jordan, Jason Kidd, Shaquille O'Neal, Kevin Garnett, Hakeem Olajuwon and Karl Malone.
This card has a PSA 10 population of just 2.
Conclusion
Scottie Pippen's career will be forever remembered for winning 6 NBA Championships alongside Michael Jordan and how well-rounded his game was on both ends of the floor.
He is certainly one of the best small forwards to ever play the game, and this list of valuable Scottie Pippen cards would be a dream collection for basketball card hobbyists.