by joe
|
Last Updated:
March 10, 2022
Tim Duncan had a stellar NBA career. With 5 NBA championships and a huge list of accolades to boot, its no wonder Tim Duncan has some pretty valuable rookie cards.
Duncan also benefited from a blossoming sports card hobby in the mid-90s (as did Kobe Bryant), just as his career was kicking off. Because of this, he has a wide variety of rookie cards to choose from, including die-cuts, refractors and serial numbered cards.
Tim Duncan's legacy Hall of Fame career is solidified and in the history books. Many of his peers consider him among the top 20 players of all time. You can be certain many of the basketball cards in this list will continue to rise over time, as more collectors seek to add him to their collection with a somewhat limited supply.
12 of the Most Valuable Tim Duncan Rookie Cards
1997 Bowman's Best Picks Atomic Refractor #BP8 Tim Duncan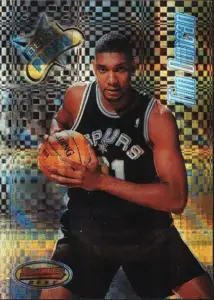 On 2/24/22 a PSA 10 sold for $1,050. Bowman did some really creative design work with their Best Picks and Best Cuts inserts of the mid-90s. This Atomic Refractor parallel has an almost psychedelic-looking background.
The grid-like design patterns also feature some areas of the card where squares are punched out.
This card has a PSA 10 population of 18. This is an early atomic refractor with a low population of an all-time great. I'm a bit surprised it doesn't sell for more.
1997 E-X2001 #75 Tim Duncan
On 12/20/2021 a PSA 10 sold for $511. The lower price tag for a Gem Mint grade is really indicative of the higher population count on this card.
By contrast, there are two parallels of this card design which are called Essential Credentials Now and Essential Credentials Future. Each of these are serial numbered, but in an odd way where one series contains serial numbers equal to the card number. The other does the same in reverse.
Tim Duncan's card number of 75 came toward the bottom of the list, so one of the parallels is serial numbered to only 9. The other to 75.
His Essential Credentials Now parallel sold on 7/21/2021 for $17,859. It was a PSA 9. Here is a classic example where extremely scarce cards will sell for far more than base versions, despite worse grades.
This base card has a PSA 10 population of 129.
1997 E-X2001 Jambalaya #8JB Tim Duncan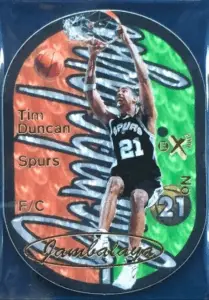 On 12/13/2020 a PSA 10 sold for 9,900. This die-cut classic insert set has really stood the test of time not only for enthusiastic hobbyists, but those outside of sports card collecting as well such as Marvel card hobbyists.
Even though the Tim Duncan Jambalya rookie card is not as rare as some others in this list, I would have to put it as a top 3 rookie card design.
It has a PSA 10 population of 9, although with die-cut cards, it can sometimes be tough to tell the difference between a PSA 8 – 10, so you can definitely have an amazing collection piece for a lower price if you sought out a Near Mint copy.
1997 E-X2001 Star Date #5SD Tim Duncan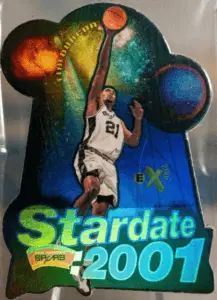 On 2/22/2021 a PSA 10 sold for $3,089. The Star Date insert was continued a second year after Kobe Bryant's rookie season, only this time it came in a die-cut.
The theme of the card was to see into the future when a rookie would become a star, but of course for both Kobe and Duncan, that became true sooner than 4 years after their rookie season.
While I do enjoy die-cuts, this has to be one of the uglier shapes of a card I've seen.
This card has a PSA 10 population of 10.
1997 Flair Showcase Legacy Row 0 #5 Tim Duncan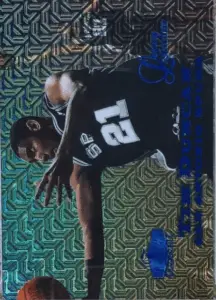 On 8/15/2020 a PSA 9 sold for $2,900. Flair Showcase is definitely a revered brand by collectors, but they don't seem to capture as much adoration from the casual hobbyist. The Legacy Collection in particular has some amazing photography, and really highlights a player in full ranges of motion showcasing their athletic abilities.
It is Serial Numbered to 100.
This card has a PSA 10 population of 8.
1997 Hoops High Voltage 500 Volts #15HV Tim Duncan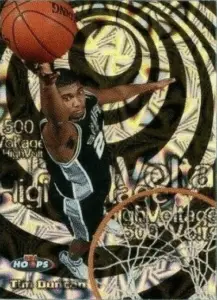 On 8/28/2021 a PSA 8 sold for $2,258.73. It's important to note that these High Voltage inserts came in the standard version, and this 500 Volt parallel which was aptly serial numbered to 500.
The base insert version can be bought raw for right around $100, which is roughly what a PSA 8 would sell for. Although from my experience, these cards do chip quite easily which is also evident from the PSA pop report.
For example, the 500 Volt parallel of this card has no PSA 10s. The highest grade according to the pop report is an 8, of which there are only 5, and only 7 have ever been graded by PSA.
These inserts have been brought back to life by NBA Hoops recently, although I still prefer the original, hypnotic design.
1997 Metal Universe Precious Metal Gems #66 PMG Tim Duncan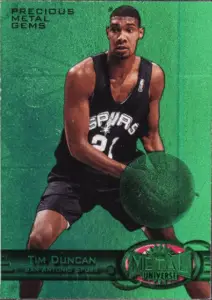 A PMG Green (Emerald) sold on 5/26/2020 for $81,180. Just like the previous year, the Precious Metal Gems cards continue to this day to be among the most sought after inserts of all time in the basketball card hobby.
It's well documented that these super rare cards were very susceptible to chipping along the edges right out of the pack. Even in modern sets such as the 2021 Marvel Metal Universe, you can see the chipping occur right out of packs, likely due to the materials used to print the intense high-shine surface.
If you had to only pick one Tim Duncan rookie card – this would be it.
It is Serial Numbered to 100 (90 red and 10 green). The green has only been graded twice by PSA, while the Red has been graded 11 times. Only one PSA 10 exists, and it's red.
1997 SkyBox Premium Star Rubies #112 SR Tim Duncan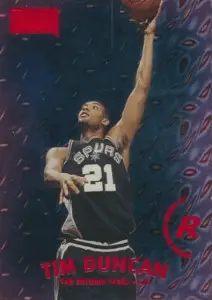 On 2/1/2021, an ungraded but PSA certified Authentic version of this card sold for $6,999. Star Ruby parallels have really held up as staples for any serious collection over the years. And as their popularity has grown, so has the tendency for an occasional counterfeit to pop up at card shows, since the only distinguishing features are the red logo, and a serial number on the back, both which could be faked to the naked, untrained eye if carefully crafted.
It is Serial Numbered to 100, with a PSA 10 population of just 2 and a total population of 11.
These kinds of inserts hardly ever pop up, except in higher end auctions.
1997 SkyBox Premium Star Rubies #229 Tim Duncan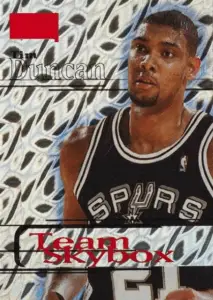 On 6/5/2021 a PSA 9 sold for $11,032. This Star Ruby (serial numbered to 50) came out of Skybox Premium Series 2 boxes. Besides these rare parallels, other inserts in the set included the following:
15 Star Search (1:6 packs)
15 Jam Pack (1:18 packs)
Autographics (1:72 packs)
15 Competitive Advantage (1:96 packs)
15 Thunder and Lightning (1:192 packs)
15 Golden Touch (1:360 packs)
This card has a PSA 10 population of just 1 and a total graded population of just 9.
1997 SPx #37 Tim Duncan (Grand Finale, Gold, Silver, Bronze, Sky)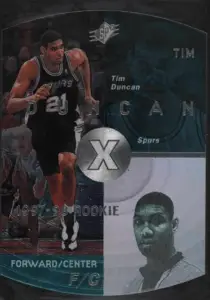 This card came with a number of parallels, and the rarest Grand Finale version is serial numbered to just 50, and has only been graded by PSA 6 times. The other parallels include Bronze, Silver, Gold, and Sky.
This Grand Finale parallel has a PSA 10 population of just 1.
1997 Ultra Star Power Supreme #18 SPS Tim Duncan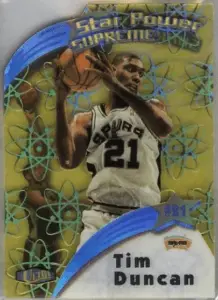 On 2/28/2022 a PSA 10 sold for $4,450. To give a little perspective on how much the sports card industry has taken off over the last 5 years, a PSA 10 sold on 6/10/2018 for just $290.
This card has a PSA 10 population of just 10. While there are no serial numbers listed on these cards, the print run certainly had to be very limited considering the low population numbers and the higher pop counts of the more common parallel version of this card.
Tim Duncan Rookie Card Recap
Tim Duncan had an amazing NBA career and his rookie season came during an amazing time in the hobby. Considering he was a quiet star and not as popular among collectors, you can really build up an amazing Tim Duncan rookie card collection for far less than some of his contemporaries.
However, if you want to go for some super rare rookies of The Big Fundamental, you're still going to be paying $5,000.