by joe
|
Last Updated:
June 19, 2020
Shaquille O'Neal was enshrined into the Hall of Fame in 2016, and his rookie cards are certainly tops among basketball card collectors.
Here is a list of 11 Shaquille O'Neal rookie cards worth an investment.
(Not sure what to pay? Read this guide on how to research pricing on basketball card values.)
Classic C3 Shaquille O'Neal Promo Card (LSU Tigers)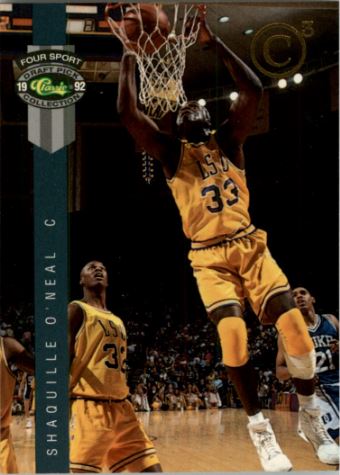 Find on eBay
The 1992-93 Classic C3 card set consisted of 30 cards from top players across a variety of different sports.
Shaq wasn't even part of the original set. Collectors had to send in for a unique membership card in order to receive the card as part of a promo.
25,000 of these cards were made – and the PSA population report has 32 10s and 15 9s on record. In other words, these cards do not pop up at auction very often.
Here is an ad showing the Shaq promo card for a charter membership in the Classic Collectors Club.
1992-93 Classic C3 PSA Pop Report
1992-93 Fleer #298 Shaquille O'Neal SD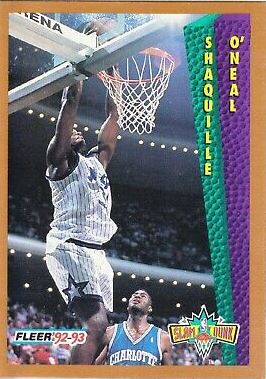 Find on eBay
The 1992-93 Fleer set contains 2 different Shaquille O'Neal rookie cards. The first is part of a Slam Dunk insert series.
There were 35 different players in this insert series, numbered #265-300.
Other Hall of Fame notables in this series are Scottie Pippen and Charles Barkley.
Fleer Drake's and Fleer Tony's Pizza were promo cards made using the same images, with no or different numbering than the standard Fleer set.
The 1992 Fleer Tony's Pizza Shaquille O'Neal PSA 10 pop report only has 9 of these in existence. This card uses the same image as the Slam Dunk card from the standard Fleer set.
Comparing the two cards, there are 107 10s of 1992 Fleer Shaquille O'Neal  #298 in existence.
The average sale price was $114 with a recent price sold at $209.16 taken from 69 lots, according to PSA's pop report in June, 2020.
1992-93 Fleer #401 Shaquille O'Neal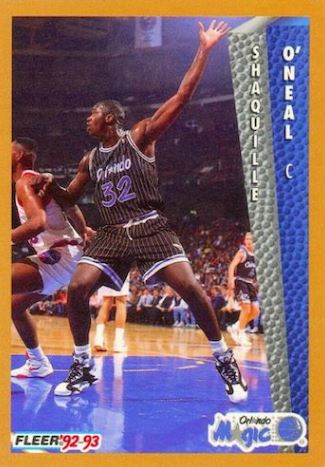 Find on eBay
This is the more common, yet still very valuable Shaq rookie card. It can easily fetch $275 to $300 at a PSA 10.
1992-93 Hoops – Draft Redemption #A Shaquille O'Neal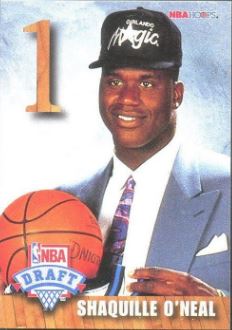 Find on eBay
These were insert series cards – for rookies from the NBA draft. There are 10 cards in the series, and they are alphabetically ordered rather than numbered.
Other notables included #B Alonzo Mourning, #C Christian Laettner, #J Robert Horry.
1992-93 Hoops – Magic's All-Rookie Team #1 Shaquille O'Neal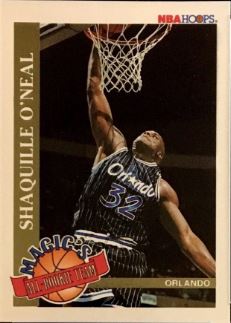 Find on eBay
In 1992, NBA Hoops released a special insert series where Magic Johnson picked his All-Rookie Team.
Shaq was included as number 1, as no surprise. Other notables from this series included Robert Horry, Christian Laettner, and Alonzo Mourning.
This card fetches a premium price at a PSA 10, with average sales hovering around $400.
1992-93 SkyBox #382 Shaquille O'Neal RC, SP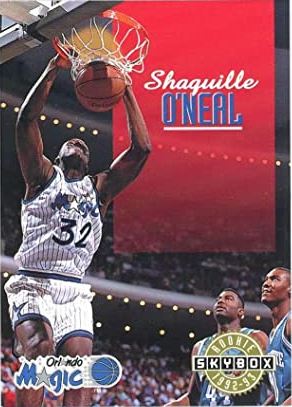 Find on eBay
Large print runs and reasonable grading make this rookie feasible at a PSA 10 – averaging around $100 per sale in 2020.
In general, Skybox tends not to fetch as high of prices as Topps, Upper Deck and some other brands of the time.
However, this design is pretty classic with Shaq power dunking and two opponents looking on in awe.
1992-93 SkyBox – Draft Picks #DP1 Shaquille O'Neal
Find on eBay
The Draft Picks insert card is definitely a more appealing card – mostly because of it's rarity. 
PSA 10s can fetch $150-$200 or more, since they don't come around at auction all that often.
Half way through 2020, there were only about 30 of these cards up for sale at various auctions.
According to PSA population reports as of June 2020, there are only 253 PSA 10s in existence, as opposed to 899 10s of the base card from the same 1992 Skybox set.
This is a classic example of how insert cards, which are more rare, tend to fetch higher prices. It's a simple matter of supply and demand on some of these must-have rookie cards.
1992-93 Stadium Club #201 Shaquille O'Neal MC (Member's Choice)
Find on eBay
In 1992, Topps came out with the inaugural set of Topps Stadium Club cards. Shaq has two notable rookie cards in this set.
Neither cards in this base Topps Stadium Club set fetch much of a premium and typically sell for around $100 at a PSA 10.
You can get a really good deal on PSA 9s of these cards as well if you are on a budget and want to add some Shaq rookies to your collection.
1992-93 Stadium Club #247 Shaquille O'Neal DPK, RC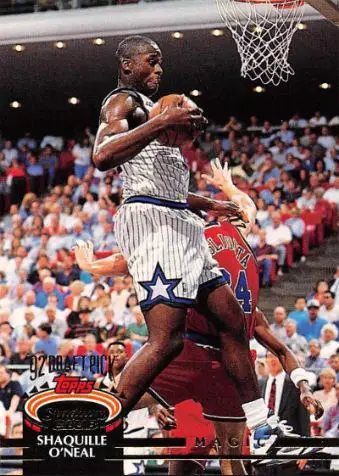 Find on eBay
1992-93 Stadium Club – Beam Team #21 Shaquille O'Neal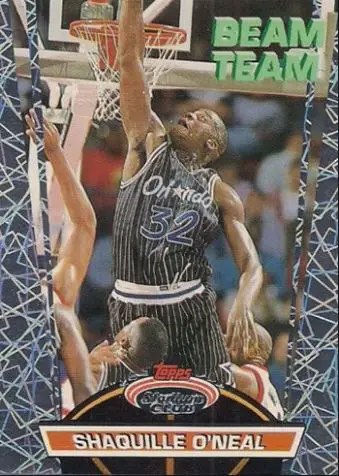 Find on eBay
The real gem of Shaq from this set is his Beam Team insert card.
There are 21 players in the Beam Team set, including Michael Jordan.
These cards are quite tough to grade, as they contain some unique glossy design that is tough to find centered.
If you can manage to find or rip a PSA 10 of Shaq's 1992 Topps Stadium Club Beam Team card, it can go for as much as $3,000 to $4,000 or more.
In addition to the standard set, there was also a "Member's Only" set of all the same cards released, with a special stamp indicator on them.
These cards are more rare, and sealed boxes of the Member's Only sets go for $800-$1,000.
1992 Topps Gold Shaquille O'Neal #362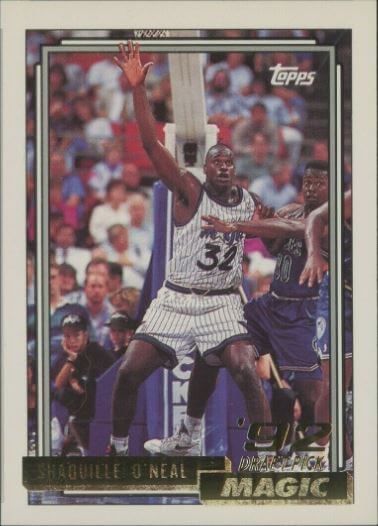 Find on eBay
Despite large print runs just like other Shaq rookie cards such as Fleer and Ultra, Shaq's Topps and Topps Gold rookie card has become the standard base rookie card.
Topps gold cards were essentially parallel cards in the standard Topps set. However, you can also buy standalone Topps Gold sets to be guaranteed to get the gold version of Shaq's rookie card.
The Topps Gold version can fetch approximately 2.5x the price of the standard version.
Also, as of August 2020, there are only 386 PSA 10s of the Shaq Topps Gold Rookie and 1689 standard Shaq Topps rookie PSA 10s.
Conclusion
Shaquille O'Neal is an all-time great Hall of Fame player with a variety of rookie cards for all kinds of collectors and investors.
Happy Shaq rookie hunting!