by joe
|
Last Updated:
August 5, 2020
Kobe Bryant rookie cards make for great investments into the hobby, as there is a great variety with lots of competing brands in the mid-90s.
Here is a list of 13 of the more popular Kobe rookie cards you can look to get from a hobby box, buy raw, or buy already graded.
Related: Kobe's Most Valuable Cards.
(Wondering what to pay for these cards? Read the guide I put together on how to research basketball card values online.)
1996 Bowman's Best #R23 Kobe Bryant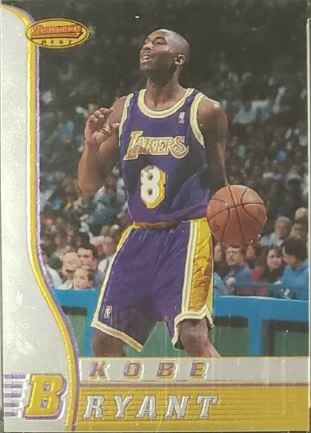 Kobe's rookie year coincided with the release of Bowman's Best – a set which had a glossy chrome design and bold font choices.
Included in this set are 25 rookies along with Kobe being the clear standout.
Refractor and Atomic Refractor parallels are the main attraction and can yield some top dollar if graded mint.
There were also some Best Cuts and Best Picks inserts, with notable players such as Michael Jordan and Shaquille O'Neal.
If you are hunting for any of these cards in a hobby box, you get 24 packs with 6 cards per pack.
1996 Topps Finest #269 Kobe Bryant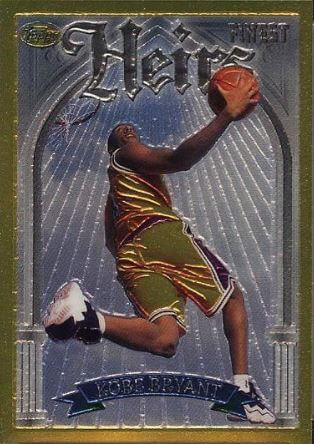 Topps released Finest for the first time in 1993. Over the years, Topps Finest festured a protective coating over each card you need to peel off (or not).
PSA will grade cards from this 1996 Finest basketball set with both a coating and non-coating designation on the slab.
Kobe has 2 cards in the set, #74 (Apprectices) and #269 (Heirs), each with a refractor version, and each have graded versions with and without the coating.
These cards and sets are quite hard to come by, as lots of the other notable hall of fame players such as Michael Jordan appear in the set and fetch good value on the marketplace.
1996 Fleer #203 Kobe Bryant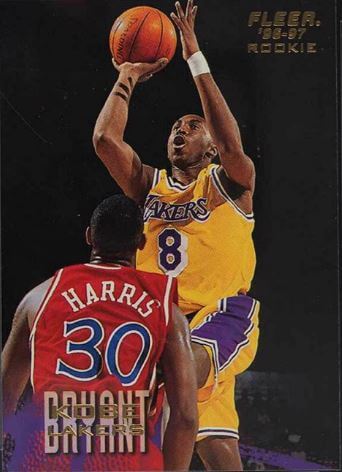 Kobe's 1996 Fleer #203 rookie card is a much more common card than some of the others in this list, and therefore does not fetch as high a price.
However, a PSA 10 will still fetch mid 3-figures ($400-$500) on the open marketplace in 2020.
Michael Jordan has a number of high value cards in the set, along with Allen Iverson as this is his rookie year as well.
Kobe is also featured in two of the insert sets – Kobe Bryant Lucky 13 #13 and Kobe Brant Rookie Senations #3.
1996 Metal #181 Kobe Bryant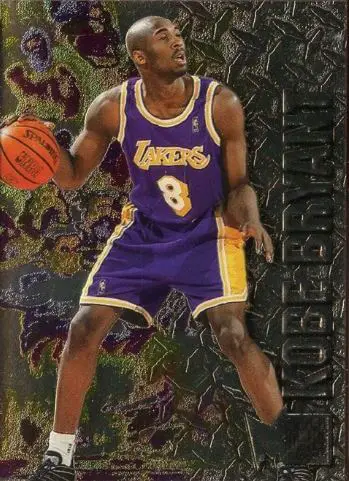 Fleer introduced its Metal cards in 1995, and Kobe Bryant's 1996 Fleer Metal rookie card has emerged as one of the hobby's top staple Kobe rookie cards.
Kobe also has a Fresh Foundation #137 insert rookie card in this set, along with a Precious Metal parallel of his base rookie.
Only around 18% of his base rookie cards in this set receive a PSA 10 Gem Mint grade, making them quite rare and desirable.
This could easily be a mid 4-figures card down the road if the hobby continues to grow.
1996 SkyBox Premium #55 Kobe Bryant
Skybox released this higher end 1996 Skybox Premium set, which injected a little more scarcity into the hobby.
Besides the base version, Kobe also has a "Rubies" parallel version of this card.
Ruby parallels simply feature a red foil as opposed to the standard gold foil, but because of their rarity – can fetch up to ten times the price as a base at auction.
There is a lot of speculation online as to how many cards of this set were made and how many Rubies are out there, but based on population reports – they are extremely rare.
1996 SkyBox Premium #203 Kobe Bryant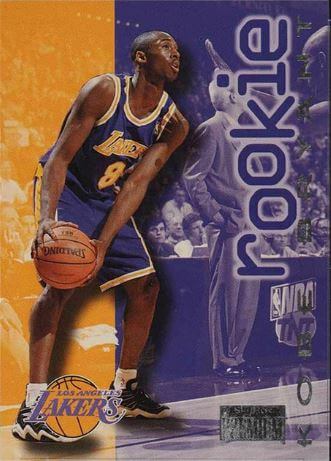 This Kobe Bryant #203 Skybox Premium rookie can be found in series 2 hobby boxes, where as his #55 would have been found in series 1 boxes.
Both hobby boxes currently sell for over $500 on eBay in 2020.
1996 SkyBox Premium – New Editions #3 Kobe Bryant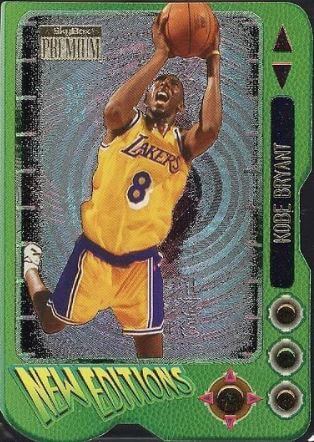 The 1996 Skybox Premium New Editions #3 Kobe Bryant insert features a die-cut and video game controller or alien-like design.
As a rare insert, this Kobe card fetches top dollar at a PSA 10 since it is also tough to grade gem mint.
You'll be looking to spend $2000-$3000 or more going forward for a Gem Mint version of this card. As of publishing this article, there are only 20 in existence, according to the PSA pop report.
Overall, this year of Skybox Premium has some crazy high value insert cards, including a bunch of with Michael Jordan.
1996 SkyBox Z-Force #142 Kobe Bryant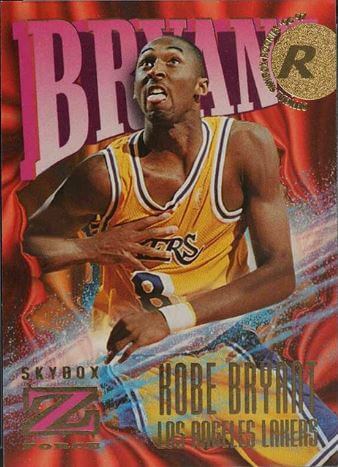 Skybox Z-Force has a stark, vibrant graphic design.
The 1996 SkyBox Z-Force #142 card is featured in the Series 2 box, as the set has 100 cards in each Series 1 and Series 2 boxes.
Other notable insert cards from this set include Big Men on Court and the very rare Slam Cam, which could only be found in 1 in 240 packs.
A PSA 10 version of this card will fetch $500+, as there are only 200 of them in the pop report as of early August 2020.
As with many of these 1996 sets, because of Kobe's rookie year and prime Michael Jordan, expect to pay top dollar for one of these hobby boxes.
1996 SP #134 Kobe Bryant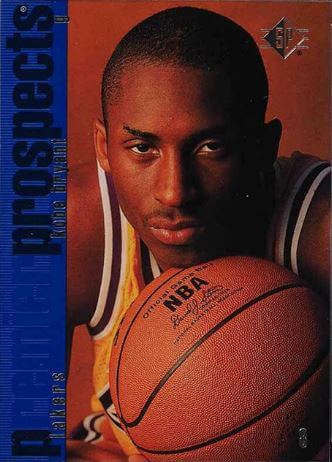 Kobe's 1996 SP #134 rookie card look average enough, but this SP set had lots of unique aspects to their cards, including foils, holograms, and die-cuts.
This card is not all that uncommon, and has been graded nearly 7000 times.
However, it only gems at a rate of about 12%, according to PSA pop reports – which means it can fetch $1,000+ on ebay as of August 2020.
1996 Topps #138 Kobe Bryant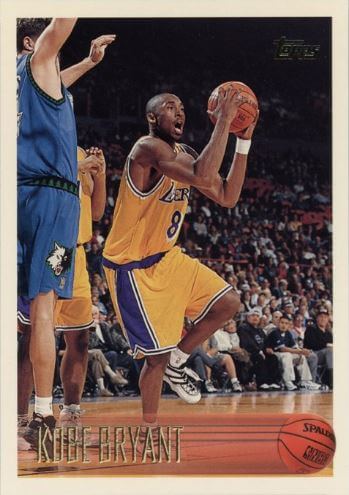 Topps has become such an iconic brand in the hobby, that this rather pedestrian 1996 Topps Kobe Bryant #138 rookie card has emerged as a popular staple for collectors.
It gems at a rate of about 20%, according to PSA pop reports, which is not a tough grading card compared to many other Kobe rookie cards.
In late July, early August of 2020, there was a big surge in prices for these cards. A Gem Mint 10 currently is surging to $5000 as of August 2020.
1996 Ultra #52 Kobe Bryant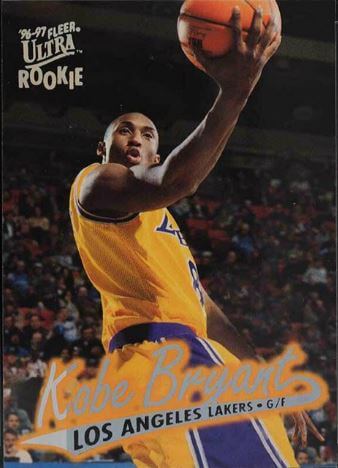 The 1996 Ultra Kobe Bryant #52 rookie card is on the lower end of the scale overall, but it is a super tough card to Gem Mint, at only 7.5% according to PSA pop report.
In fact, there are only 284 PSA 10s in existence, which explains the $2000+ price tag on an auction in July 2020.
However, you can still pick up a PSA 9 for a few hundred bucks.
While not a particularly exciting hobby box, it still will sell in excess of $500 and continue to rise over time as supply shrinks.
1996 Upper Deck – Rookie Exclusives #R10 Kobe Bryant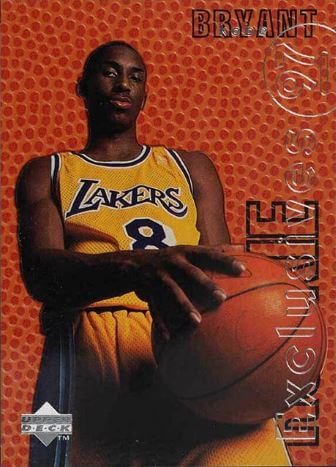 The 1996 Upper Deck set included these Rookie Exclusives inserts, starring both Kobe Bryant #R10 and Allen Iverson R1.
These inserts can be found in the Series 2 Hobby Boxes, which also feature a unique Jordan's Viewpoint insert series.
These Kobe rookie cards are not a particularly tough grade, with an equal amount of PSA 8s and 10s, with the bulk falling into the PSA 9 range.
1996 Upper Deck UD3 #43 Kobe Bryant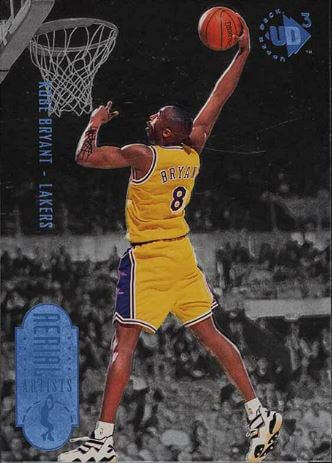 The final card in the Kobe Bryant rookie card list is this 1996 UD3 Kobe Bryant #43 Aerial Artists.
Kobe has another rookie card from this set called "Hardwood Prospects", but I feel this one stands out from a design and action photo perspective.
Upper Deck released UD3 in 1996 and 1997. A hobby box from Kobe's rookie year will set you back $500+, like many of the other hobby boxes from Bryant's rookie year.