by joe
|
Last Updated:
June 17, 2020
If you are looking to invest in a PSA 10 Michael Jordan on a budget, look no further.
In many people's minds, Jordan is the G.O.A.T (greatest of all time). Jordan cards tend to go up over time, especially as the card population starts to age and less sealed boxes are available to hunt through.
Very few collectors can afford the most valuable Michael Jordan cards, which can cost 4, 5, and even 6-figures.
Here is a list of 9 Michael Jordan cards you can invest in on a budget.
(Note: Prices fluctuate over time. If you want to find average sales data from recent eBay auctions – read my guide on researching basketball card values.)
1989-90 NBA Hoops Michael Jordan #200

Find on eBay
1989 Was the first year NBA Hoops came out with basketball cards.
Inaugural seasons of basketball card sets often fetch higher value because of historic reasons. So despite the very high print runs of this card, it still sells for around $100+ at a PSA 10.
Centering is another reason PSA 10's can be hard to come by, which is true of almost all sports cards. According to recent PSA population reports, roughly 26% of cards submitted received a 10. Pack and box rippers will be very familiar with the sometimes laughable centering on these old cards.
1989-90 NBA Hoops Michael Jordan #21 All Star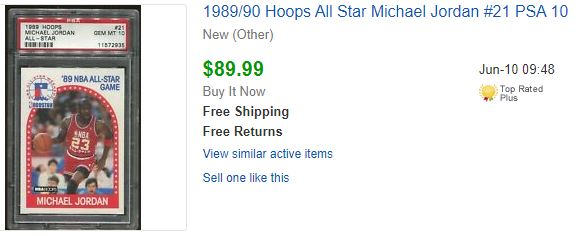 Find on eBay
Jordan's 1989 NBA Hoops All-Star card tends not to fetch as high of a price as his base card from the same set, but it is still a solid investment and a staple for a Jordan collector.
The distinct white border makes centering obvious for both of these 1989 NBA Hoops cards, which makes the cards look great in a PSA slab.
1991 Skybox Basketball Michael Jordan #39

Find on eBay
1991 was the second year Skybox released basketball cards. 
They followed up their inaugural release in 1990, which featured a brownish-gold border and colorful visuals behind tightly cropped player silhouettes, with a stark white background.
However, they kept the same players-in-action set on graphic backgrounds.
These cards fall squarely into the Junk Wax era, but over time, Jordan cards from these years have become "must-haves".
1991 Skybox Basketball Michael Jordan #307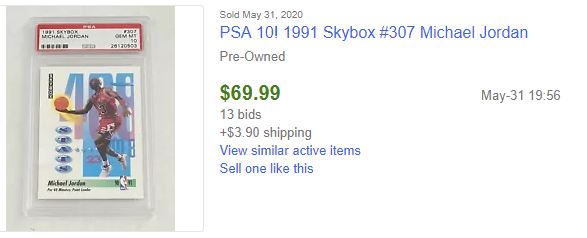 Find on eBay
The 1991 Skybox basketball hobby boxes were broken up into two different series.
1991 Skybox Basketball Series 1 hobby box included the base Jordan #39, Jordan Stat Leaders #307, and other Finals' Moments cards.
1991 Skybox Basketball Michael Jordan #583

Find on eBay
1991 Skybox Basketball Series 2 hobby box contains Jordan #583 along with Team USA cards from the Barcelona Summer Olympics and a Jordan/Pippen #462 card as well.
Jordan's #39 card from this set, with his famous dunking pose, is a real solid investment. The design is clean and distinct.
Since Jordan and the Bulls won the NBA finals in the previous season against Magic Johnson and the LA Lakers, there are a number of Jordan cards from that insert series you can invest in as well.
Jordan's stat leader is perhaps the standout insert of the set, however, with it's distinct colorful design and Jordan scoop-shot pose.
The one drawback to this set is lack of clues about centering. There are no real distinct outlines to cue from, so sending in raw, ungraded cards requires a bit more research.
1991 Upper Deck Michael Jordan #44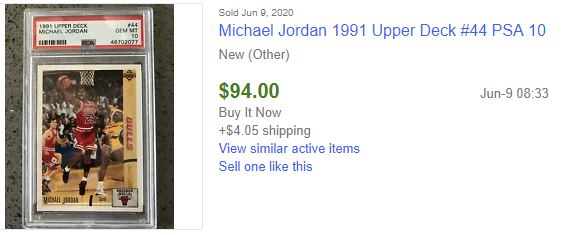 Find on eBay
Upper Deck joined in with Fleer, NBA Hoops, and Skybox in 1991 to begin making their own basketball cards.
Upper Deck decided to go with a photograph-based approach instead of the highly-stylized NBA Hoops and Skybox approach.
All these factors make this 1991 Upper Deck Michael Jordan #44 a solid investment.
1992 Fleer Ultra Michael Jordan #27

Find on eBay
In 1992, Fleer expanded their product line to Ultra. These cards introduced a thin foil line as part of their graphics. It was also Shaquille O'Neal's rookie year.
1992 Ultra came out with a Series 1 and Series 2. This Michael Jordan #27 is part of series 1, and Shaq's rookie is part of series 2.
1993 Fleer Michael Jordan #28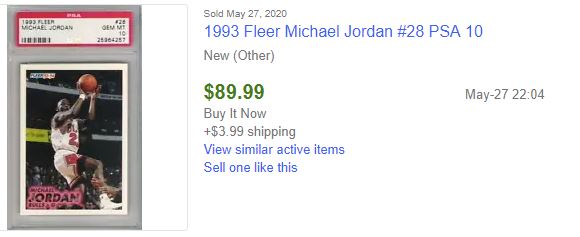 Find on eBay
1993 Fleer NBA Superstars Michael Jordan #7

Find on eBay
The final two cards here are great examples of a base card and insert from the same set.
The base 1993 Fleer Michael Jordan #28 card is straightforward, but can be surprisingly tough to grade with its distinct white border, making off center printing easy to spot.
The NBA Superstars Michael Jordan #7 of 20 can also be a bit tough to grade as well, both because of centering and the gold foil of the NBA Superstars label.
Conclusion
Michael Jordan cards don't have to be super expensive to invest in. As you can see, these 9 examples are all PSA 10s, and despite the high print runs, there still isn't an overabundance – mainly because its actually kind of hard to get a card graded as a PSA 10 gem mint condition.
Happy Jordan investing!