by joe
|
Last Updated:
June 17, 2020
Collecting or investing in sports cards can be both fun and profitable. If you are either new or haven't collected for a decade or two, you're in the right place.
This guide will give you all the essential information you need. 
If you remember collecting sports cards during the 80's and early 90's, this period of time was known as the "Junk Wax" era.
What does the Junk Wax era even mean?
During the late 80s and into the 90s, sports card manufacturers printed tons of cards to meet the demands of the hobby, because collecting was popular. As the supply outgrew the demand, cards from this era naturally dropped in value. Thus, the cards became known as "junk wax".
I'll never forget buying my first set of Fleer baseball cards, seeking out the coveted Ken Griffey Jr. rookie card.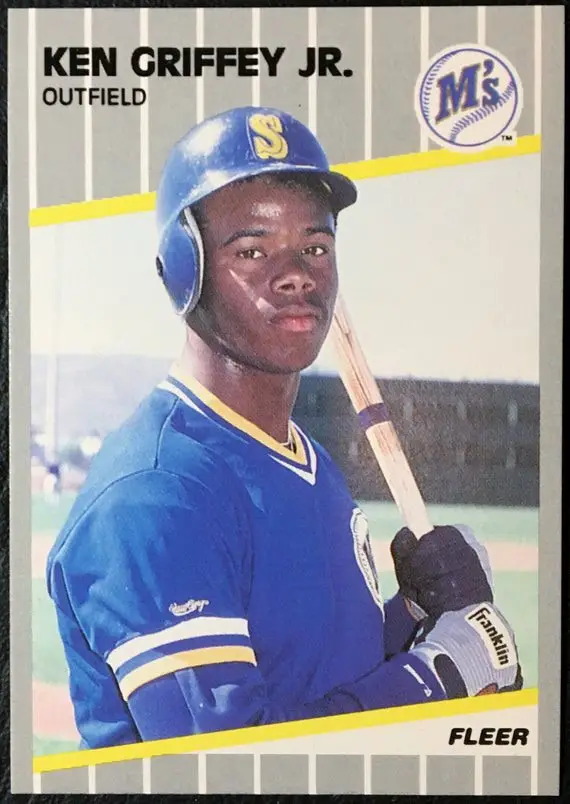 Back then, Beckett magazine was the standard to look up card values, and card shows and card shops were the way to buy and sell cards.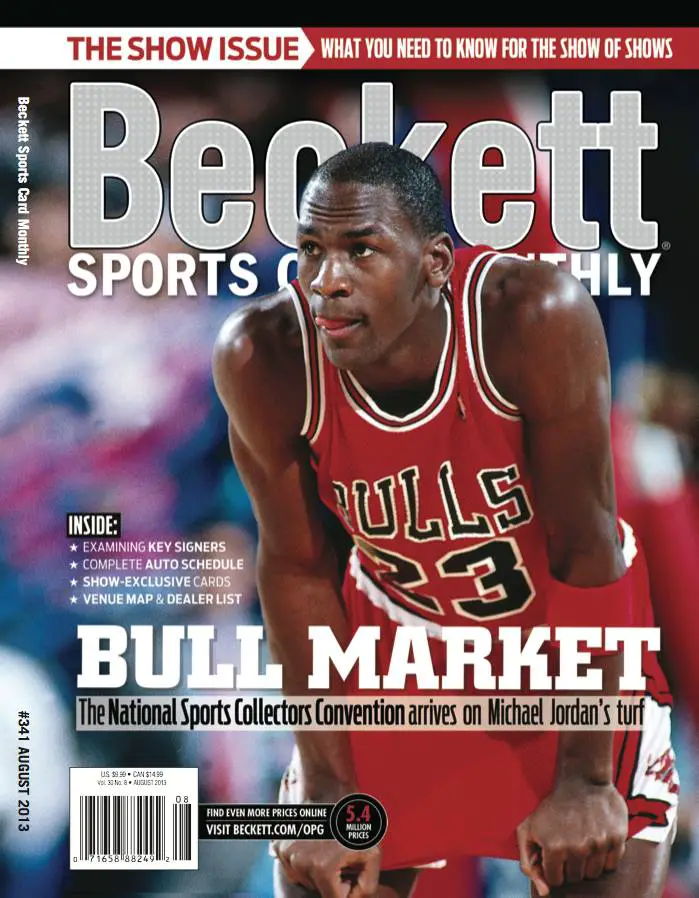 Flash-forward 25 years, and the card collecting game has changed. Ebay and other online marketplaces provided a way to find sellers and buyers from all over the world.
Card manufacturers have wised up too, by building in scarcity with their card printing through limited editions, inserts, autographs, and high-end print runs.
Just like 25 years ago – cards from decades prior are going up in value despite the high print runs.
Why?
Players from the 80s and 90s are now Hall of Famers – and if you have cards of those historic players – they could be worth hundreds or thousands of dollars.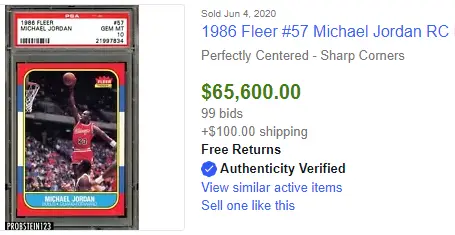 You probably have tons of questions – just as I did. I decided to do as much research as possible because one thing has become very evident:
The card collecting industry is booming again.
Let's address all the questions.
My examples will focus on basketball. This is the sport I know best.
However, the principles at play can be translated to any sport, with minor differences. So if you are interested in collecting baseball or football cards, you can apply the same research, tactics, and knowledge.
Are my old basketball cards worth anything?
If you have some old cards, whether in a card protector case or just sitting in a shoe box, chances are they aren't worth too much. Cards of high value have at least one of the following three characteristics.
A popular, collectable player. (Think Hall-of-Famers, big personalities, popular players from teams with lots of fanatics)
In "mint" or "near-mint" condition – verified by a grading company such as PSA, BGS or SGC.
A non-common card, such as an insert.
If you only have one of these three characteristics, you may be able to sell your card, but not for much.
(Side note: If you want to do your own research on basketball card values – I put together this guide on researching current basketball card values online.)
For example, let's say you found a 1993 Fleer Michael Jordan card sitting in a box. Jordan is indeed a Hall of Fame player, but if the condition is not verified and it's a common card from the set, it's probably only worth a few dollars.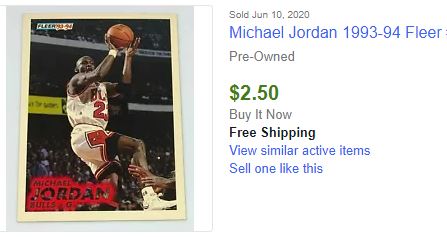 However, if you get the same card graded a PSA 9 mint, it could be worth $25+. (We will cover grading in soon.)

In addition, if you found a Michael Jordan Living Legends insert, which is part of a rare insert set, and got it graded at a PSA 9 mint, it could be worth $150+.

How can I find out what my cards are worth?
The real source of truth for card value is eBay. It's the biggest marketplace in the world for cards.
However, don't be fooled by some of the prices you immediately see when trying to look up card values. You need to filter results by sold items to get the true sales data.
How to filter EBay results to show sold prices on sports cards
Step 1

Step 2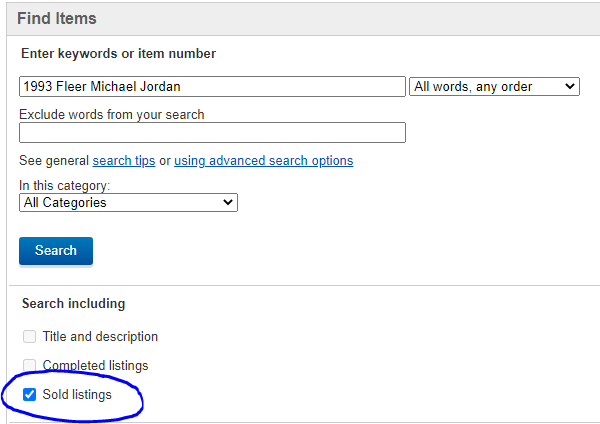 While there is no guarantee you will sell your cards for as much as the prices you see in the sold listings, it should give you a good idea as to what your card may be worth.
If you want to take a more detailed historical approach to seeing sales data – Sports Card Investor has a paid tool – called the Market Movers data tool – which allows you to take a data driven approach to card investing.
What is a PSA 10? BGS 9.5? What do those things mean?
PSA (Professional Sports Authenticator) and BGS (Beckett Grading Services) are both services which help increase your card values by doing two things.
First, they verify the card's authenticity. With today's personal home printing capabilities, someone could easily attempt to create fakes. These companies have lots of research and processes in place to make sure cards are the real deal.
Second, they assign the card a grade, based on different criteria about the card's condition. These condition factors include things like the sharpness of the corners, the quality of the surface, and the centering of the print on the cardboard.
If you want to figure out if its worth getting your cards graded – read this guide.
PSA vs BGS – What's the difference?
Both services provide authentication and grading for your cards. Once graded, they also encase (known as a slab) and label the card with a unique identification number.
You can compare your cards to others in the graded population through each services' population reports. This acts as documented proof of the card and creates demand in the marketplace based on rarity of the card.
BGS provides grades to 4 different condition factors (centering, corners, edges, surface), along with an overall grade. They also use half-point increments, which is why you can get a BGS 9 mint or a BGS 9.5 or 10 gem mint.
PSA differs in that they only provide an overall grade, and only use whole-point increments. So a mint card is either a PSA 9 mint, or PSA 10 gem mint.
In general, PSA tends to fetch higher prices for their graded cards in the open marketplace. However, this isn't universally true across all cards or sports. BGS certainly has a strong reputation as well, and their graded cards can fetch top dollar.
Deciding which service to use for grading a particular card comes down to preference, research, and whether you are aiming to fetch top resale value, or add your favorite looking slab to your own collection.
SGC is another notable grading company and has been slowly gaining popularity and trust in the marketplace.
All three graders will increase the value of your cards. Each one of them has different pricing based on what cards are being graded, how much it's potentially worth, and how quickly of a turnaround you need.
PSA, for example, offers discounts if you submit in bulk or become a member. However, they tend to have longer turnaround times compared to the competition.
Here are links to each of their pricing pages.
Beckett Grading Services Pricing: https://www.beckett.com/grading/compare-our-services
PSA Grading Services Pricing: https://www.psacard.com/pricing/#cards
SGC Grading Services Pricing: https://gosgc.com/card-grading/services-pricing
Are Topps and Fleer still a thing? What other card brands are there?
Modern Basketball Card Brands
In today's card collecting game, certain brands have exclusive deals with sports leagues.
In 2009, Panini gained exclusive rights to create cards for the NBA. However, Panini makes a variety of different labeled products at different price points. By purchasing assets from Donruss and expanding their own product lines, Panini now manufacturers many different cards.
These include Prizm, Optic, Select, Immaculate, Flawless, NBA Hoops, and National Treasures.
Within each of these sets are inserts, parallels, rookie patch autographs. Building in scarcity along with autographs and actual patches of a player's jersey right in the packs has really raised the value of the modern card market.
Parallels are an identical card design, with different coloring. Some of them are even serial numbered which gives them rare status, and thus fetch higher prices in the marketplace.
Panini recently announced they are cutting back on some of the card lines they are making, in order to inject more autograph and patch cards into existing sets.
Vintage Basketball Card Brands
Previous to Panini's exclusive deals, there were a number of different players in the basketball card game.
Fleer made cards previous to the 1980s, but made a comeback by releasing it's 1986 set. Many players whose actual rookie year was previous to 1986, are still considered as rookies from this year, such as Michael Jordan.
NBA Hoops, Topps and UpperDeck also manufactured cards during the 90s and 2000s.
A brief recap of some of the brands and manufacturers can be found here: https://en.wikipedia.org/wiki/Basketball_card
Where can I buy new or old basketball cards?
You can purchase cards in retail stores such as Walmart or Target. There are also a variety of collectible online shops to buy from. In addition, card manufacturers such as Panini or Topps sell directly on their websites, but in limited quantities and mostly for special promotions.
Ebay is still the largest marketplace for purchasing cards. Whether you are looking for graded cards, ungraded singles, single packs, boxes, or even cases of boxes – Ebay is your best bet.
If you are new to collecting or investing, your best options are to buy already graded cards, or sealed boxes seeking out the valuable cards you can send in to get graded.
Prices on sealed boxes tend to reflect how valuable some of the top cards in the set are worth. Since you are never guaranteed to get said player, let alone in a PSA 10, you are taking bigger risks with buying boxes, especially as their prices climb.
You can buy raw, ungraded singles but most beginners don't fully understand how to successfully guess what the card might get for a grade.
However, if you just want a certain card in your collection and are not overly concerned about value, buying ungraded singles can be a good option.
Always beware of counterfeiters and scammers. Some people go to great lengths to make a few dollars by opening and resealing packs while giving buyers the illusion they could get lucky and land a valuable card in a resealed pack.
As a general rule, I never buy single packs online unless it is from a reputable seller, or PSA has sealed and authenticated the pack. 
This can be a good option for old packs that are quite expensive and rare.
How do I protect my cards?
The simplest and most cost-effective approach is to use cards savers. These are recommended by grading companies.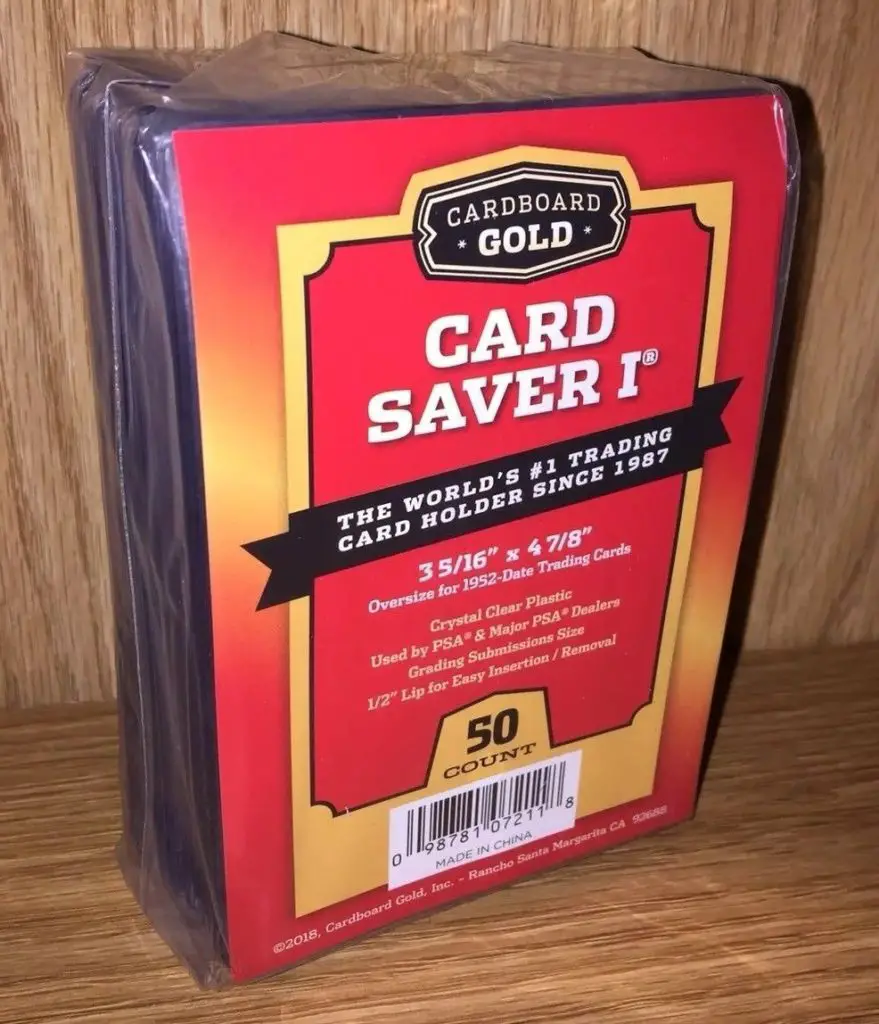 In addition, you can also use a penny-saver sleeve before you place it in a card saver. This can be especially important if your card has some foil on the outside so none of it gets scraped off when placing it in the card saver.
What should I buy if I have $100 or $1,000?
Rather than get caught up in the hype of prospective players, just invest in players you like.
I prefer to invest in hall of fame players like Michael Jordan and Shaquille O'Neal. Not only do their card values increase over time, but you can invest in them at almost any price point.
You can even buy an entire sealed box of older cards for much less than $100, and almost guarantee to get the player you are looking for.
Otherwise, you can spend that money on already graded cards. Again, you can find some graded cards at just about and price point – from $20 on up.
I did both when I first started. 
I'm a fan of players from all eras. I wanted the thrill of opening older boxes – so I bought some early 90s cards looking for players like Shaq and Jordan.
I also bought a PSA 10 rookie card of Russell Westbrook for around $45.
Just be sure to stick within your budget, and invest in what you like.
Conclusion
Collecting and investing in sports cards is not a get rich quick scheme. It's potentially profitable.
History has shown that values rise over time. Sometimes quite quickly, sometimes more slowly. Not unlike the stock market.
The difference is the enjoyment of opening packs, creating displays in your home, checking through Ebay auctions for deals, and talking shop with other collectors and investors.
There is so much more value beyond just the cards themselves, being able to profit if you are patient and do research is all just icing on the cake.