by joe
|
Last Updated:
August 19, 2020
Let's take a look at the most valuable basketball card brands of the 1990s.
The 1990s saw a rise in basketball card brand diversity. The decade started out with mainly Fleer, Skybox, and NBA Hoops.
However, things really started to change in 1993, with the rise of Topps back into the industry and the beginning of refractor and chrome cards.
I will be using total PSA graded card sales to determine values.
Also, I will NOT be using insert set values – only the values of base sets. I've set aside the top insert sets of the 90s for another article.
1990 – Fleer is the most valuable basketball card brand to start the decade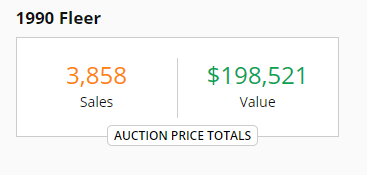 Fleer started out the decade where it left off in the late 80s – as the most valuable basketball card brand in the business, despite much of these years being described as junk wax.
There was competition from Skybox and NBA Hoops, but Fleer had really cemented itself in 1986.
1990 saw notable rookie cards from Shawn Kemp and Tim Hardaway, along with other historic players such as Michael Jordan, Larry Bird, Magic Johnson, Dennis Rodman, and Scottie Pippen.
Gary Payton was included in the release of 1990 Fleer Update. This "later release" paved the way for "Series 1" and "Series 2" releases in the hobby, as Series 2 could feature rookies after they began the season.
This is also a somewhat historic year for Jordan himself, as it was the year of his first NBA Championship and NBA Finals MVP.
This set is nothing flashy – but there is lots of solid value throughout. If you are looking to rip through an old hobby box, the most noticeable flaw will be off-center cuts.
1991 – Fleer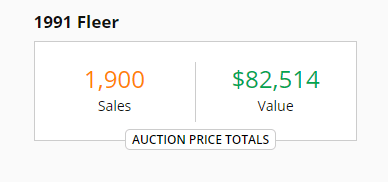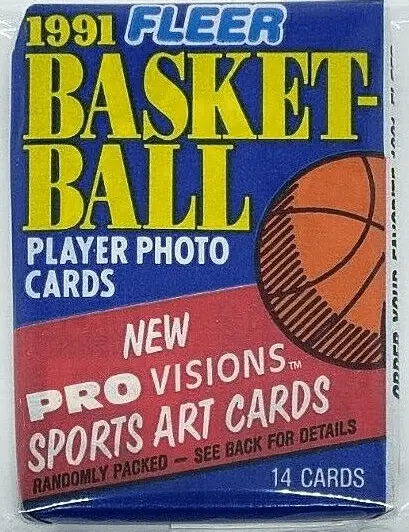 Fleer remains at the top for overall PSA graded card sales for 1991 basketball card brands, but the competition began ramping up.
Upper Deck introduced its inaugural basketball set, and Skybox came out with another great design in 1991.
Dikembe Mutombo and Larry Johnson were the top rookies of the 1991 class, and Jordan cards caught fire after he won his first championship against Magic Johnson and the Lakers to end the previous season.
While Fleer remained the top brand in 1991, Upper Deck's solid design and likability, perhaps due in part to the recognition of the Ken Griffey Jr. rookie carze, makes it a close second.
Perhaps in time, Upper Deck may even surpass Fleer in sales for brands in 1991.
1992 – Upper Deck

1992 was all about Shaquille O'Neal. His rookie cards dramatically increased the value of all card brands.
Upper Deck has emerged over time as the most valuable base rookie card (not including inserts) for O'Neal, with PSA 10s reaching over $3,000 in mid-2020.
Alonzo Mourning, Christian Laettner, and Robert Horry are other notable rookies from this year.
Although both Upper Deck and Fleer continued to be staple card brands throughout the 90s, a new top dog was about to emerge for the remainder of the decade.
1993 – Topps Finest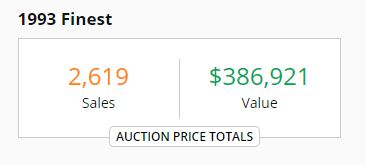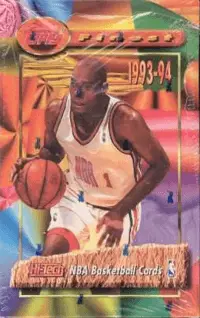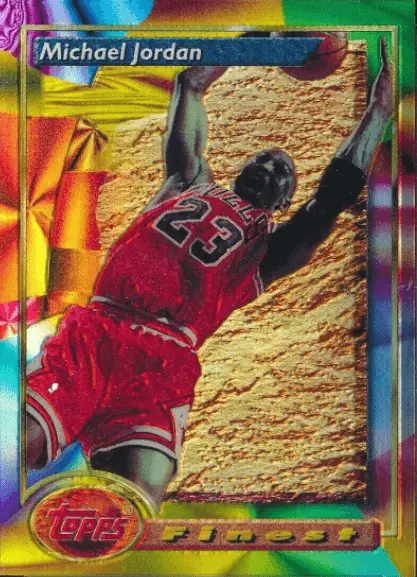 When Topps released its Finest set in 1993 for basketball and baseball, it was a real game changer in the hobby.
Finest introduced refractors, which is a coating on a card's surface that creates a rainbow-like shine when reflected by the light.
Refractor cards were randomly inserted into hobby boxes and retail packs, and carry enormous value in the marketplace.
Since refractors are just parallel designs of the base set, I don't consider them a completely separate insert set, but it should be noted that refractors add a huge amount of value overall to PSA graded sales history.
In fact, Michael Jordan's 1993 Finest Refractor accounts for approximately $178,000 in PSA graded card sales according to PSA's auction price reports.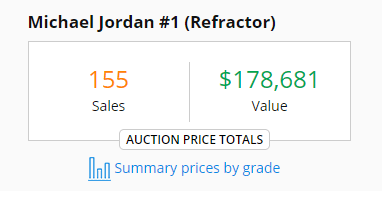 Notable rookies from 1993 include Anfernee Hardaway, Chris Webber and Toni Kukoc, each of whom have a Topps Finest Refractor rookie card.
If you are hunting for these cards on eBay, be sure to check the image carefully. Many people will list a card as a refractor when it is in fact not, because the base 1993 Finest design looks a lot like a refractor to the naked eye.
1994 – Topps Finest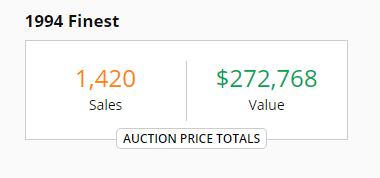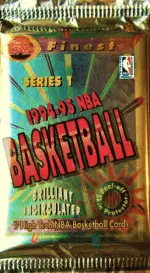 Topps Finest remained the top basketball card brand of 1994, and its PSA graded card sales dwarf those of any other brand.
Noteworthy rookies of the 1994 season included Jason Kidd and Grant Hill.
1994 was not a particularly exciting year, as Jordan had left to play baseball following his 3rd championship in the 1992-1993 season.
Finest did begin adding a protective coating to peel and remove to their cards in order to prevent sticking and chipping off of the highly glossy, chrome-like surface.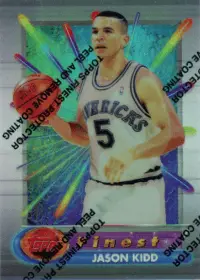 1995 – Topps Finest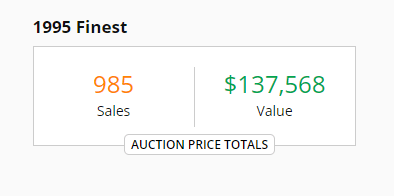 Michael Jordan returned after his baseball journey, and notable rookies such as Kevin Garnett and Rasheed Wallace entered the league.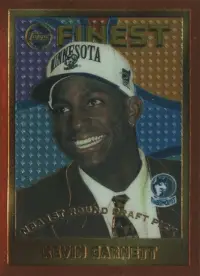 Topps Finest continued to be the most sought after set of the mid-90s, this time with a more basic design.
Perhaps due to a lack of abundant standout rookies and it being the third year of Finest, overall PSA graded sales of this set are lower than the two previous years.
Still, Jordan and Garnett cards, particularly their refractors, can fetch some top sales at auctions.
1996 – Topps Chrome becomes the most valuable brand of the 90s

1996 was truly a historic year in the hobby.
Not only was it the rookie year of Kobe Bryant and Allen Iverson, Topps Chrome was released.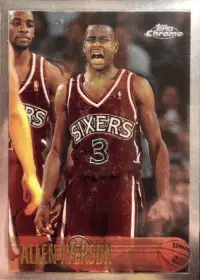 Topps decided to keep their refractor technology in the Topps Chrome set, while also adding a chrome-like finish to all their base cards.
This is truly the most valuable basketball card brand of the 90s.
This "chrome" approach to card design is one that is continued to this day. Card collectors really value the shiny finish.
The total PSA graded sales of this set is staggering – almost $2.7 million as of August 2020.
1997 – Topps Chrome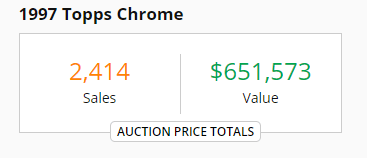 Topps Chrome would continue its status as top base set of the rest of the decade.
1997 was another strong year for rookies, with all-time great Tim Duncan joining the league, along with Chauncey Billips and Tracy McGrady.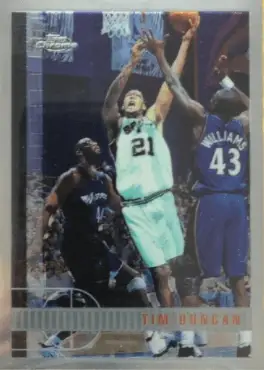 Topps was certainly not trying to achieve anything flashy with their design, unlike its earlier Finest sets. However, they were creating solid value through their base designs and high-end value through scarcity with their refractor parallels.
1998 – Topps Chrome

Topps Chrome continued into 1998 with another highly collectible set of cards.
Although other brands of the mid-90s haven't sold as many PSA graded cards as Topps Chrome, each set has inserts and rare cards that can sell for top dollar.
1998 introduced Dirk Nowitzki, Vince Carter and Paul Pierce as rookies in the NBA.
This was also the year the Lakers began their dominant run in the sport, led by Kobe Bryant and Shaquille O'Neal.
1999 – Topps Chrome is the final most valuable basketball brand of the decade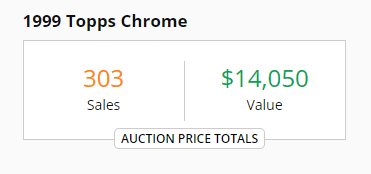 If you immediately notice the sharp decline in sales from previous years, its mainly because the 1999 NBA draft class did not have many notable hall-of-fame or NBA champion players.
In the sports card hobby, rookies are king – which is the biggest contributing factor to the lower value of this year.
Michael Jordan being in his later years, removed from the Chicago Bulls was also a contributing factor.
Still, notable rookies included Baron Davis, Richard Hamilton, Steve Francis, Shawn Marion, and Jason Terry.
Conclusion
The 1990s started out with Fleer being the top brand in the basketball card world, and ended with Topps.
However, lots of brands contributed lots of brand diversitry to the hobby during the decade, including Upper Deck, SP, Hoops, Bowman's Best, and Collector's Choice.
The decade was highlighted by Jordan's dominance, and the emergence of Kobe Bryant, Shaquille O'Neal and Tim Duncan.
You can still find hobby boxes from all these brands and years on eBay.