by joe
|
Last Updated:
August 15, 2020
Looking for the best junk wax basketball boxes to buy? On a budget? After ripping about 15+ different junk wax hobby boxes – I compiled a list of 4, which I believe are the best based on:
Quality of cards (Cards generally don't stick together and stay in good condition – PSA grading candidates.)
Number of cards which are valuable
Profit potential (Low Cost and upside potential for flipping through grading.)
(Disclaimer: buying hobby boxes on eBay comes with risk. You are never guaranteed cards in mint condition. I make no guarantees – be sure to look at the seller's ratings and make your own decisions. Also, read this if you are new to sports card collecting and investing.)
1990 Skybox – Series 2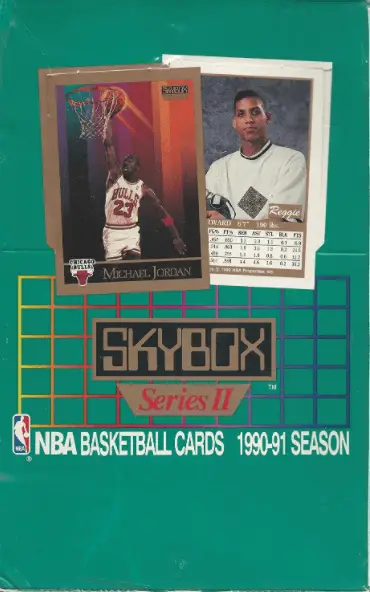 Find on eBay
1990 was the inaugural year of Skybox basketball cards. This adds historical significance to the hobby and makes them more collectible and valuable.
From 1986 until 1989, Fleer was the lone card manufacturer in the hobby, and their card designs featured photos of the players along with different bordered designs with various typography.
Skybox changed the game in 1990 with their distinct graphic backgrounds.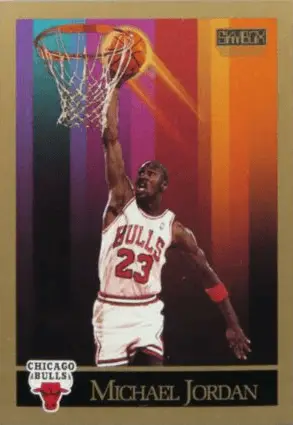 What's the difference between 1990 Skybox Series 1 and Series 2?
The most significant cards only to appear in Series 2 would be the following:
#304 Phil Jackson
#331 Bulls Team Checklist
#365 Gary Payton Rookie Card
The 1990 Skybox Michael Jordan #41 appears in series 1 and 2, along with other notable hall of fame players.
Overall, I'd rate these boxes 3.75/5 stars.
The cards don't stick together at all. The issues you will run into, however, are printing errors (some minor ink issues), some minor chipping to the gold borders, and cards which are off center (most common issue).
These issues will prevent you from getting most of the cards graded at a PSA 10.
According to the PSA population data, here is a breakdown of PSA grading for this set:
PSA 10 – 30%
PSA 9 – 38%
PSA 8 – 24%
As you can see, it's possible to get cards graded from this set a PSA 10, including the Michael Jordan which can sell for $150+.
What should I pay for a box of 1990 Skybox?
As of August 2020, prices have climbed a bit. However, you should still be able to pick up a box for $40 or less.
Despite Fleer being a more valuable set in 1990, these boxes come at a significant discount.
If you are unsure what to pay, check for recent sold listings on eBay.
1991 Skybox Series 1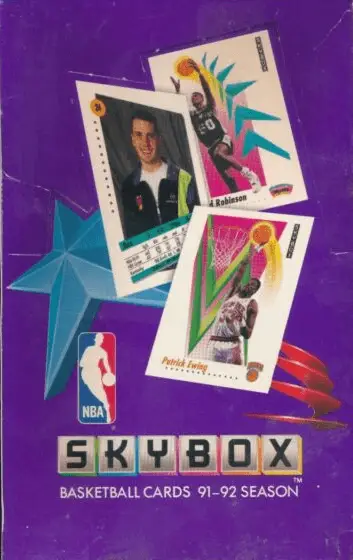 Find on eBay
Second year Skybox continued with it's impressive graphic design, but switched it up to a stark white background.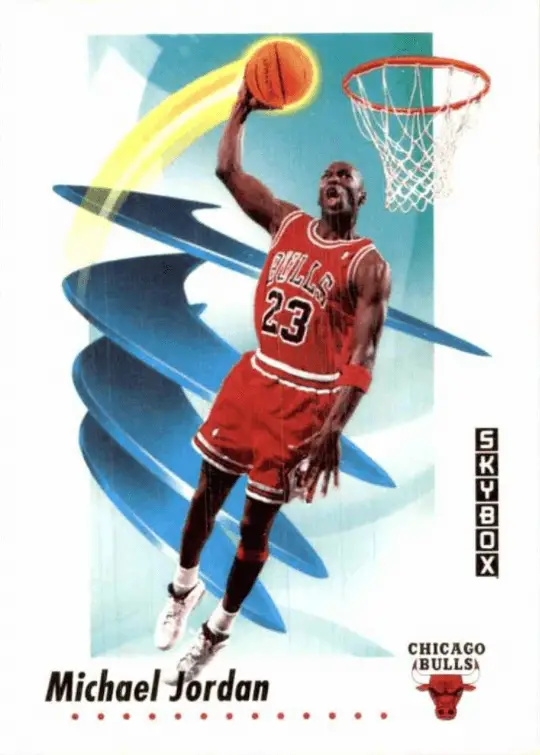 They also added in a bunch of insert cards, including Stat Leaders and NBA Finals Moments.
Overall, I'd rate these boxes 4.5/5 stars.
Michael Jordan appears in both of these insert sets, and has a total of 4 different cards in the 1991 Skybox Series 1 hobby boxes.
Michael Jordan #39
Michael Jordan #307 (Stat Leaders in points)
Michael vs. Magic #333 (Great Moments from NBA Finals – Jordan vs. Magic 1-on-1)
Michael Jordan #334 (Great Moments from NBA Finals – Jordan hugging the trophy)
Bulls Starting Five #337 (Great Moments from NBA Finals – Jordan, Pippen, Grant, Paxson, Cartwright)
All 5 of these cards are worth grading, if you can get them graded at a PSA 10.
Michael Jordan #39 is the most iconic card in the set, and it's worth grading even at a PSA 9.
According to PSA's pop report, this set grades a PSA 10 at a rate of 62% overall, which is a very high Gem rate.
I have experienced very high Gem rates as well, as these cards don't stick together, and the printing was less prone to errors.
Also, a lack of a distinct borders makes centering more lenient.
Overall, this is one of the best junk wax basketball hobby boxes you can buy, given the large number of Jordan cards, the easy grading, and the tremendous fun ripping through cards that withstand the test of time.
What should I pay for a box of 1991 Skybox Series 1?
As with most boxes, they do go up over time. However, you should still be able to pick up a box for around $75 and as low as $50.
1991 Upper Deck Basketball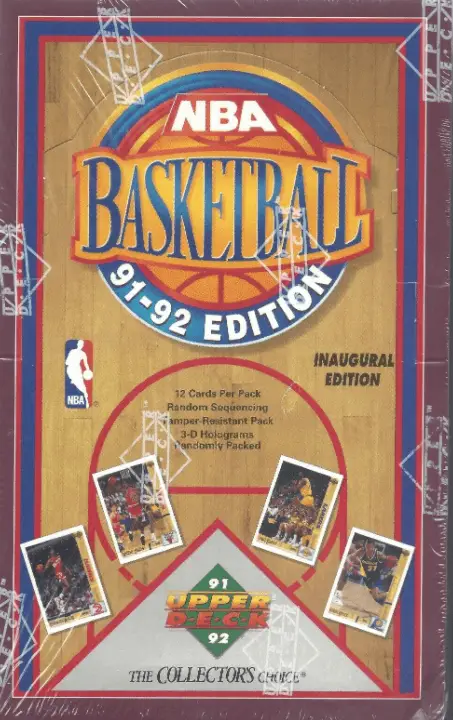 Find on eBay
The inaugural edition of Upper Deck was not a particularly historic year for rookies, but just like 1990 Skybox, it has historic significance in the hobby.
If you also add the fact that you can score numerous Michael Jordan cards (including an All-Star, Team Checklist, and Hologram inserts), along with rookie cards of Larry Johnson and Dikembe Mutombo, you have a set that is easy to grade, full of great cards, and super fun to rip.
The design is nothing to write home about, but it is reminiscent of the time and centering is not too much of an issue.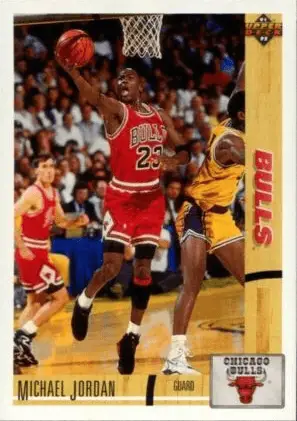 In addition to the original hobby box, there is also a "High Series" hobby box, which includes some extra cards, but nothing too significant to make you want to chase down a box.
Overall, I'd rate these boxes 4.5/5 stars.
This was one of my favorite boxes to rip, and is not a particularly tough set to grade either.
According to PSA's pop reports, cards submitted received a gem rate of 53%. This rate will likely dicrease a bit as the years move forward, but overall there doesn't seem to be many real issues with the quality.
The hologram inserts, although very cool to see in person, do have a much tougher time grading, and a gem rate of only 22%.
These cards have a very delicate surface – and it's easy to see how the smallest scratch can occur on the surface and effect the grade.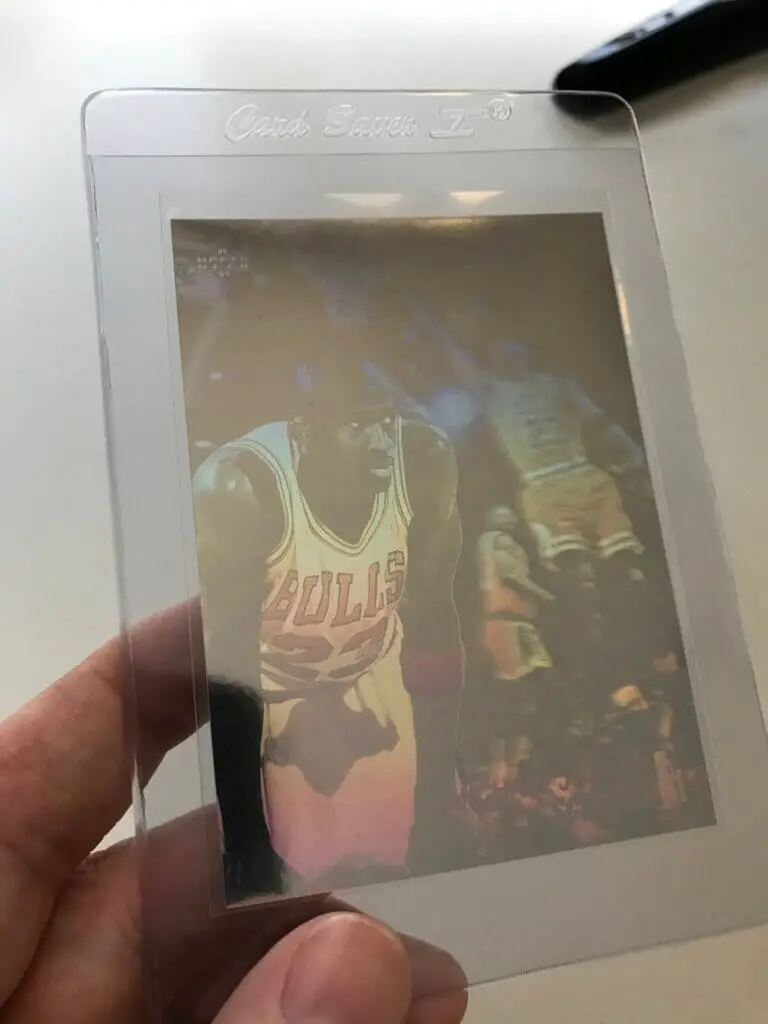 What should I pay for a box of 1991 Upper Deck?
As with most boxes, they do go up over time. However, you should still be able to pick up a box for around $40-$60.
1993 Fleer Series 2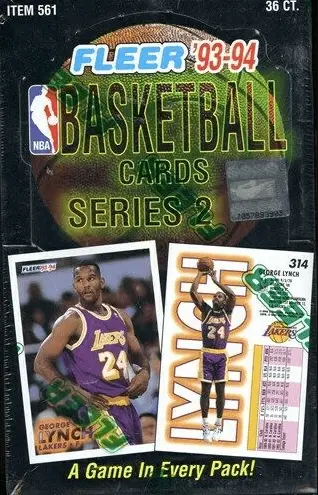 Find on eBay
Fleer had been making cards since 1986, but there's a few reasons why I included this particular set as a good junk wax purchase.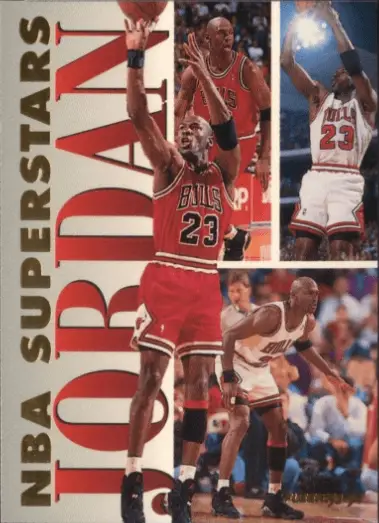 First, there are a few notable rookies including Anfernee Hardaway, Chris Webber, and Toni Kukoc. This adds a bit of value to the set, without driving up the prices to crazy high amounts.
Second, there are a number of great inserts, including NBA Superstars and Sharpshooters, and the more rare Living Legends (all of which include Michael Jordan), along with 1st Year Phenoms.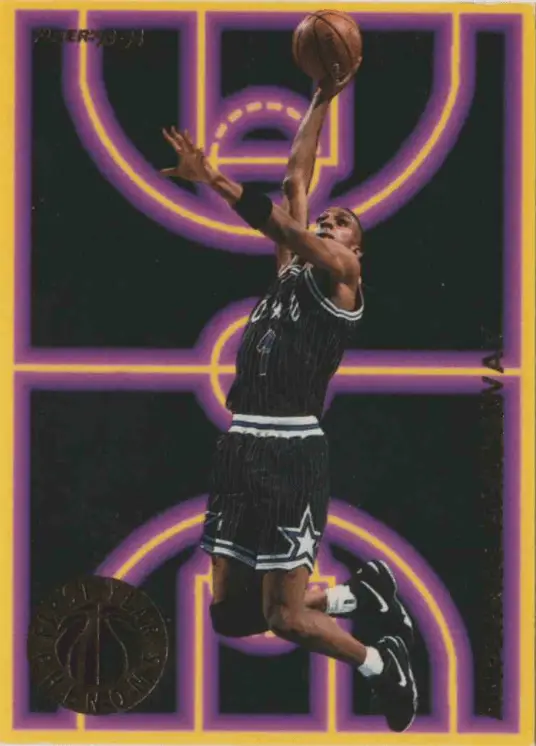 Overall, I'd rate these boxes 3.75/5 stars.
While it's true there are quite a few cards which carry decent value when graded a PSA 10, it is a bit tough to achieve those grades.
The Sharpshooter inserts can be tough to find and gem at a rate of only 30-35% according to PSA pop reports.
The NBA Superstars are quite nice and gem a bit better. Michael Jordan's NBA Superstars cards gems at a rate of 53%.
Finally, the Living Legends inserts, while amazing, are super tough to find. You should really only expect one per box – so a 1 in 6 box chance to get a Michael Jordan Living Legends insert.
Even if you manage to land one, they are very prone to chipping because of the foil. Jordan's Living Legends card only gems at a rate of 15%.
What should I pay for a box of 1993 Fleer Series 2?
These boxes have seen a bit high rise in recent months as supply has really dried up, but if you do find one, expect to pay somewhere between $85-$100.
However, they could see a much larger rise if the supply is really dwindling given the amount of value in these boxes.
Conclusion
Junk Wax Hobby boxes aren't complete junk anymore. If you go about it right, you can land some decent value and have lots of fun ripping packs at a reasonable price.