by joe
|
Last Updated:
August 27, 2020
If you are looking to get back into basketball card collecting after a long hiatus, you probably have lots of questions.
With so many different basketball card brands, it's difficult to know what to buy, what to pay, and where to buy.
Terms like parallels, inserts, die-cuts, autos, and patches create even more complexity.
In this basketball card collecting guide, we will answer the most common questions and cover the most common terms in the hobby.
Are basketball cards still worth money?
High volumes of printing during the late 80s and early 90s (known as the Junk Wax era) created too much supply for the demand. If you have some of these cards stashed away, chances are they are worthless.
However, players like Michael Jordan, Magic Johnson, Larry Bird, Shaquille O'Neal, Kobe Bryant, Allen Iverson, and Tim Duncan (among other players) all have cards from these years worth hundreds, if not thousands of dollars.
In fact, you might be shocked at just how much some of the most valuable Michael Jordan cards sell for these days.
What were once worthless basketball cards, are now valuable collectibles.
Modern basketball cards can often be worth even more than older cards, thanks to rare print runs and other features.
Basketball Card Grading
However, in order for most of these cards to be valuable, they must be authenticated and graded by a company such as PSA, BGS, or SGC.
Collectors and investors need assurance the card they are purchasing is authentic and in mint or near-mint condition.
Once a basketball card is authenticated, graded, and protected in a holder (slab), buyers can make fair market comparisons.
You can still buy and sell raw basketball cards (ungraded cards), however, both the buyer and seller are making a negotiation without having a third-party authenticate and grade the card.
Basketball card investors and flippers buy lots (2 or more) of raw cards with the intention of getting them graded to sell at a higher price.
The process of grading adds value to cards.
Rare, Modern Basketball Cards
There is more scarcity built into today's basketball card collecting hobby.
Panini has exclusive rights to create and sell NBA basketball cards since 2009, and prints unique and rare cards among their common cards (also known as base cards).
Rare cards often have interesting features. Here is a list of features and terms you will come across with modern basketball cards that are apart of their rare characteristics.
Auto – A card with an autograph.
Patch – A card with a piece of jersey material, sometimes worn by the player.
RPA – Rookie Patch Auto. A rookie card with both a patch and an autograph.
Parallel – A card with an identical design, but with different colors and graphic elements. (ex: Orange Ice Parallel, Silver Refractor Parallel.)
Refractor – A card with a special coating material, which when held to the light, creates a rainbow-like effect.
Serial Numbered – A card which has the total amount of its kind produced indicated on the card. (#1 of 25 or 1/25)
Insert – Cards which are added to packs and hobby boxes in addition to base cards.
You may see some of these terms combined to describe a card. For example, there may be a serial numbered RPA, or a refractor auto.
No longer are card manufacturers simply mass-producing the same card over and over again, driving down the market.
It may seem strange to see a current all-star sell for more than a retired hall-of-fame player, but the price jumps from junk wax era cards to today's rare autos and inserts make them more valuable to basketball card collectors.
What basketball cards are worth the most money?
Rare cards are worth money. Plain and simple.
Rare basketball cards of historic players are worth the most money.
There are a few factors which make a card rare.
The first factor is simply how many exist.
The second is how many of each card at a certain grade exist (ex: a PSA 10 Gem Mint).
Take the 1986 Fleer Michael Jordan for example. Lots of these cards exist, but very few have been graded by PSA as a Gem Mint 10, making those specific cards much more valuable.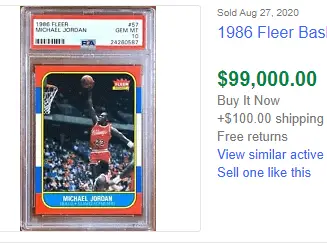 A recent sale of a Lebron James rookie patch auto by Upper Deck Exquisite, was one of only 23 in existence and was graded a BGS 9.5. The final sale price was about $1.8 million.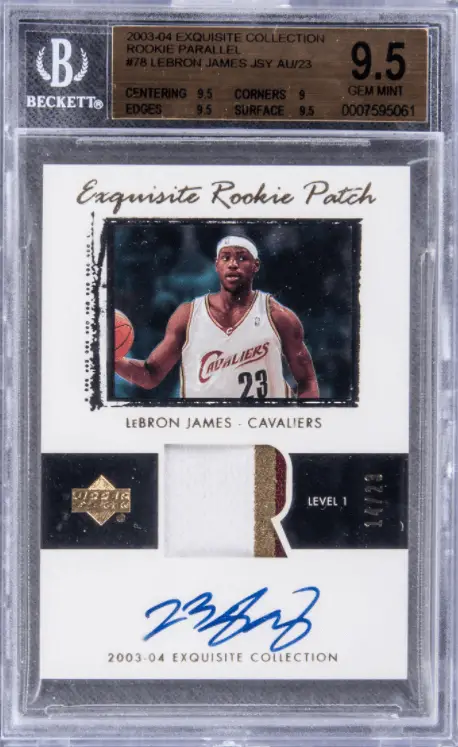 Since the market fluctuates, naming the most valuable cards in this article could change over night, and will certainly be different in a year.
If you have a particular card in mind, there are a number of ways to do research to find the value of basketball cards in your collection.
Where can I buy basketball cards?
You can buy basketball cards both online, at your local card shops, and in retail stores such Target, Walmart, Amazon, and Big Lots.
Cards sold at retail stores are known as retail packs or blaster boxes. Retail packs may not include certain insert sets or other cards you can only find in hobby boxes and hobby packs.
Hobby boxes and packs are usually found through eBay, or other online distributors such as Dave and Adam's Card World and Steel City Collectibles.
Local card shops (also known as LCSs), will also sell hobby boxes as they will often have exclusive wholesale agreements with manufacturers of the cards.
You can also buy cards directly from Panini online, but its limited and can cost a lot.
Where can I buy old basketball card packs and boxes?
You will typically find older boxes online through eBay, Dave and Adam's Card World, Steel City Collectibles and other small online card shops.
Buying some of these older boxes comes with risk.
I have had some cards damaged through handling over the years, along with cards completely stuck together (also known as bricking).
However, I did find some older junk wax boxes to be better than others.
What are the top basketball card brands?
Panini has exclusive rights to create NBA cards, however, they produce many different lines of cards. Here are some of the top Panini basketball card brands, in no particular order:
Prizm
Optic
Hoops
Select
Obsidian
Noir
Crown Royale
National Treasures
Flawless
Immaculate
Opulence
Absolute
Chronicles
National Treasures, Flawless and Immaculate fetch top dollar. These cards have very limited print runs, and contain lots autos and patch auto cards.
Hoops and Chronicles tend to be more on the low end of resale value, however, they both still contain inserts and parallels which can fetch good prices at auction when graded.
Prizm has emerged as the most popular of Panini's brands, with it's distinct silver foil design and chances to land some unique Silver Prizm cards with a glossy, refractor-like finish.
Select and Optic are also gaining momentum in the hobby as prices continue to climb on hobby boxes and graded cards alike.
Conclusion
If you are looking to get back into basketball card collecting, be sure to check through all the possible brands and different price points you can buy at.
Next, look for those cards online through retailers like eBay, DA Card World or Steel City Collectibles.
If you can, buy in the off-season to possibly save some money if you are on a budget.
Finally, make sure you properly protect your collection by having some penny sleeves and either top loaders or card savers on hand when you open packs.
Have fun with your basketball card collecting!